Brazilian president support up two points following cabinet reshuffle
Monday, June 13th 2011 - 13:54 UTC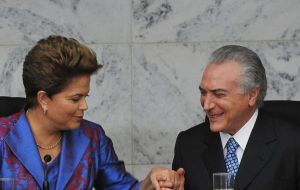 Brazilian president Dilma Rousseff public opinion support climbed two points following last week's cabinet reshuffle and a majority of Brazilians also believes that former president Lula da Silva continues to intervene in government affairs and this participation is 'correct'.

The opinion poll Datafolha published Sunday shows Dilma's support climbed to 47% which according to records is higher than former president Lula da Silva's at the beginning of his first mandate in 2003.

Last week President Rousseff lost her cabinet chief Antonio Palocci over questions about his personal finances and also changed the link between the Executive and Congress, in an attempt to improve relations with the ten-party ruling coalition.

However Ms Rousseff's standing was up in spite of the fact that 60% of those interviewed said that the Palocci incident had 'an impact'.

More specifically on Lula da Silva, who effectively intervened to help solve the Palocci crisis, 64% of Brazilian public opinion said it was correct he had done so. But 59% also stated they were against an 'active role' of the former president in the Rousseff administration affairs.

Mauro Paulino, head of Datafolha said that claims against ministers and lawmakers in Brazil have a limited impact: people are more concerned about their pockets.

"There is a growing perception of a worsening of the country's and their personal situation. There are more Brazilians concerned with the loss of purchasing power, with unemployment and the increase of inflation" said Paulino.

And if that is the question, why does this not show in a drop of support for President Rousseff and her predecessor Lula da Silva? "Economic gains of the last few years are still greater than specific threats".

But exiting Palocci and reshuffling the cabinet, "contributed to heighten her personal image", underlined Paulino.

According to Folha de Sao Paulo President Rousseff last Friday met with Vice President Michel Temer and the head of the Senate Jose Sarney, both from the main ally in the ruling coalition, PMDB, to inform them of her choice of Minister Ideli Salvatti as the new link between Planalto (Exectuvie) and Congress.

At the meeting the President recalled that former Senator Salvatti, in spite she is not much loved in the coalition, had "saved" both Temer and Sarney when they both faced serious corruption allegations and were 'almost impeached'.

The Datafolha opinion poll indicates that 7% consider President Rousseff's performance "terrible"; 34%, fair; 47% good and 12% declined to express an opinion.