Volcanic ash cloud forces the re-programming of Mercosur technical meeting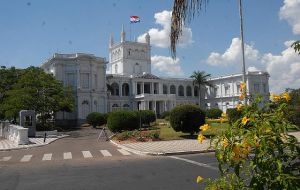 The 83rd ordinary meeting of the Common Market Group in the framework of Mercosur and which was scheduled for this week has been re-programmed for June 16 and 17, because of the volcanic ash cloud that has disrupted normal air traffic.
"We have decided to re-schedule the meeting and will be making the corresponding communications; although it all depends on mother nature as far as flights are concerned, we believe that with the re-programming for next week all delegations will be able to reach Asunción", said Ambassador Manuel Maria Caceres from the Paraguayan Ministry of Foreign Affairs.
Paraguay, until next July first holds the Mercosur chair and hosts most meetings relative to the functioning of the South American trade group.
The meeting will convene Common Market Group national coordinators and delegates from all full Mercosur members, Argentina, Brazil, Uruguay and Paraguay, plus Venezuela in the process of full integration.
The official agenda for the meeting includes the elimination of the double external tariff, free movement of goods, asymmetries and other issues pending in the framework of the Consolidation Program of the Customs Union.