Argentina industrial output up 7.9% in April and 9.2% in first four months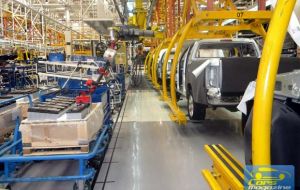 Argentina's industrial output rose 7.9% on the year in April and was down 0.2% on the month, the country's manufacturers association, UIA, said in a statement. In the first four months of the year industrial output was 9.2% higher than the same period in 2010.
April's 12-month growth rate was down sharply from the 10.3% observed the previous month due to a slowdown in the food and beverage sector, said UIA. The 12-month growth to March was 9.5%; February, 7.3% and in January, 12.7%.
The slowdown in the food sector was due largely to a less activity in the oilseed crushing sector.
"The inter-annual expansion rate showed certain deceleration compared to previous months mainly because a lesser growth in food and beverage that was down from 15.8% in the first quarter to 2.6% in April", according to the UIA release.
Activity in the automotive industry, Argentina's largest manufacturing sector, expanded 26.8% on the year.
"Though the outlook for the sector is favorable, restrictions on imports by Brazil represent a risk," UIA said.
Other strong performing sectors include the metal mechanics (22.3%), basic metals (10%) and non metal minerals (9%). Textiles on the other hand were below the monthly average.
Argentine industry is set to benefit from yet another year of strong economic growth and demand for its products abroad. The Central Bank of Argentina expects GDP to expand more than 6.5% this year, down from 9.2% in 2010.