Dilma moving closer to the opposition and "taking distance from Lula da Silva"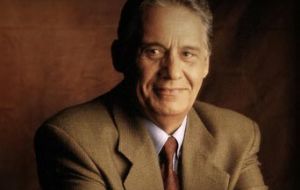 Brazilian president Dilma Rousseff has exchanged approximation signals with the opposition, beginning to "take distance" from her mentor Lula da Silva and seems closer to opposition Senator and former president Fernando Cardoso.
"Lula is a comrade of Dilma but he is no longer the president of Brazil. The elected president is Dilma and by approaching Fernando Henrique Cardoso she is beginning to show more autonomy and taking distance from Lula", said Senator Cristovam Buarque, from one of the junior party partners of the ruling coalition.
Buarque described the approach as 'historic' given the fact that the former president is a reference of the Brazilian political system, and can turn out to be one of the "most significant events" of the current administration.
Last week President Rousseff sent a praising letter to Cardoso who belongs to the Brazilian Social Democracy party, (PSDB) the main adversary of Lula da Silva and his Workers Party.
The letter was to congratulate Cardoso on his 80th birthday, honorary president of PSDB and one of the strongest members of the opposition during the eight years of Lula da Silva.
"I'm not hiding that in recent years we had and have different opinions, and that is why ever so great is my admiration for your opening to confrontation", wrote the president who then praised Cardoso for having successfully combated inflation during his presidency, 1995/2002.
In 2010 with the help of Lula da Silva, Ms Rousseff was elected president defeating the PSDB candidate Jose Serra.
"The letter has a strong democratic and republican content in spite of differences and the president acknowledges the merits of Fernando Henrique" said Duarte Nogueira head of the PSDB block in the Lower House.
"I was always in favour of an understanding between Lula and Cardoso but never managed it. In 1998 I was at the Alvorada Palace (presidential residence in Brasilia) when the two leaders met", recalled Buarque who belongs to Workers Democratic party (PDT), a relatively small grouping and was Education minister with President Lula da Silva
President Rousseff recently reshuffled her cabinet following the ousting of former chief of staff Antonio Palocci (and close aide of Lula da Silva), accused of influence peddling by the PSDB and other opposition parties.
With only five months in office Ms Roussseff named two women Ideli Salvati and Gleisi Hoffmann to the most important posts of her administration: the first as political link with Congress and the second chief of staff.
Equally significant the reshuffling came with clear signals of conciliation towards members of the opposition.
"Maybe Dilma and Cardoso are finding a path to conciliation and dialogue, which is good for the country", said Senator Buarque.
"It's time for the Workers party and PSDB to begin dialogue. That should be something natural, they are parties with similar ideas, almost brothers", said Senator Buarque.
"It's very good news for Brazilian politics; time will tell the real dimension of what it means for Brazil that the president and Cardoso are getting closer; let's hope it prospers", he added.