End of intense La Niña cycle anticipates return to average rainfall in Chile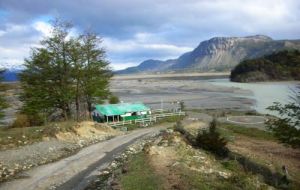 The most intense La Niña climate pattern since 1975 is coming to a close in Chile, after it cooled water temperatures off the Pacific coast of South America and left a troubling drought in its wake.
Since the latest La Niña cycle began in March 2010, energy costs have increased because of limited water reservoirs for hydroelectricity. Pollution has also become a more pressing concern in Santiago, where less than half of the average expected rainfall has been received.
But now it seems that the tides are turning for the better.
At the end of May, scientists observed the end of La Niña and a return to a "neutral phase," which signals a return to average rainfall in Chile, reports La Tercera.
This "neutral phase" signifies that water temperature at the equator is back to normal.
La Niña is the name given to a specific set of ocean conditions that occur when the temperature drops more than 0.9 degrees Fahrenheit below normal (and El Niño is the reverse, when temperatures rise over 0.9 degrees above normal).
La Niña dramatically affects the weather patterns in Pacific Rim countries. During a La Niña weather cycle, cooler water than usual moves closer to the South American coast. High pressure forms over the coast and prevents weather systems from moving on the continent, lowering the possibility of rainfall.
At the current La Niña cycle's peak, surface temperature off the South American coast dropped nearly 2 degrees Fahrenheit. This marks the biggest drop since 1975, when the temperature fell 2.2 degrees Fahrenheit.
A Chilean Weather Authority report released Monday predicted that rainfall in June, July and August should be above average from the Araucanía Region southward through the Los Lagos Region and average for the rest of Chile.
Although rainfall is predicted to return to normal rates, it will be some time before Chile's agricultural water supply recovers. Reservoirs are currently 25 to 30% below their normal capacity, according to Fernando Santibáñez, director of the Centre of Agriculture and the Environment at the Universidad de Chile.
"There is a high probability that we will still have a deficit in the reservoirs at the end of the year," Santibáñez said. "Everything seems to indicate that we will have another tough irrigation season from September to March with limited water resources, because the reservoirs will not have completely recovered."
Renewed rainfall should also lower energy costs, as hydroelectricity is less expensive to generate than other alternatives like coal or diesel. Chile has a large hydroelectric generating capacity, but the capacity depends on water supply.
Last month, hydroelectricity represented only 31.5% of the energy grid and consumers were forced to turn to other, more expensive forms of energy.
In comparison, 43% of the total energy generated in Chile in 2009 was supplied by hydroelectricity, according to the 2010 annual report of the organization responsible for Chile's central energy grid (CDEC-SIC).
By Benjamin Schneider – The Santiago Times