Energy rich Venezuela, short in power and forced to ration electricity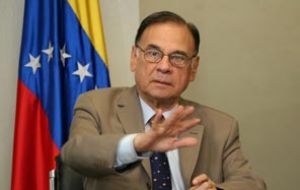 Big electricity users in Venezuela have been told to cut consumption or face increased charges. Consumers who save energy will be in line for discounts, officials said. The move comes after a series of recent power failures, the most recent last Friday and Saturday when outages affected most of western Venezuela.
Last year, Venezuela had to cope with rolling blackouts for months, blamed by the government on a severe drought hitting hydro-electric production.
However critics say that the authorities have failed to invest enough to cope with rising demand, and that the state-run utility company is beset by corruption.
In May this year, rationing was reinstated in some parts of the country after power failures affected nearly half the country.
This week's new measures came after a transformer in Zulia state failed on Friday night, followed by similar problems on Saturday that affected the states of Trujillo, Merida, Tachira and Barinas.
"It's imperative that all Venezuelans contribute to and join in the campaign to save electricity," Energy Minister Ali Rodriguez told a news conference.
"Demand is excessive," Mr Rodriguez said, adding that this stemmed from growing consumption by households, as well as industrial and commercial activity.
Consumers, including industry, big businesses and shopping centres, must cut monthly consumption by 10% compared with 2009 or face additional costs.
"These are measures for an adequate and rational use of electrical energy aimed at maintaining a steady and safe supply", said Vice President Elias Jaua.
Other measures include: consumers using more than 20% compared with 2009 levels face increase in charges of some 200%; consumers who cut usage by at least 10% entitled to 25% discount; rduction of at least 20% entitles consumers to 50% discount; and lights on illuminated billboards and street signs must use energy-saving light bulbs and be switched off at midnight
Hospital, schools, water distributors and oil companies are among those exempt from the measures.
Although Venezuela has big oil reserves, it is dependent on hydro-electricity for some 70% of its power.