Dead penguins discovered in Uruguayan coast:perished of "natural causes"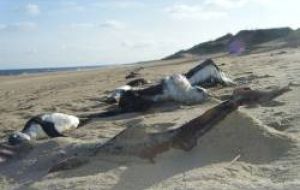 The recent discovery of dead Magellan penguins in several beaches of Uruguay's eastern coast can't be attributed to intoxication, "but rather natural causes", said Daniel Gilardoni head of the Uruguay's Natural Aquatic Resources Administration, Dinara.
In recent weeks over 600 dead Magellan penguins, mostly juveniles were discovered and one of the possible causes considered was "chemical intoxication" from intensive agriculture in the area and drainage channels to the sea.
However Gilardoni said that Argentine scientists who autopsied several of the penguins, in a primary report, discarded for now the intoxication option and pointed to natural causes.
"If it had been intoxication, the dead penguins should have been of all ages and sex, but that is not the case", said Gilardoni, who added that "we must take into account that at this time of the year almost a million penguins migrate along the Uruguayan Atlantic coast of which anywhere between 500.000 and 700.000 are juveniles".
"This fact makes us believe that natural causes have been the reason for penguins' deaths", concluded Gilardoni.