Falklands' fish, "a highly branded commodity" in Europe
Saturday, June 18th 2011 - 01:36 UTC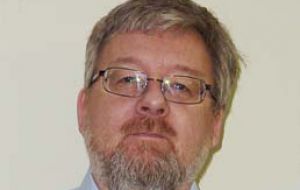 Falklands' fish is a "highly traded commodity" and customers are excited about secure and direct access to it, stated Director Fortuna Fishing Company Ltd Stuart Wallace this week.
The Islands' fish is now available from cold-stores in Holland and this enables customers to take advantage of favourable trucking rates between markets in Eastern Europe and the main seaport in Europe.
Mr Wallace explained that Fortuna Seafoods BV, the newly established Dutch sales subsidiary of the Falkland's fishing company, made quite an impact at this year's European Seafood Exposition held in Brussels last month.
The event complemented a three month long prospecting trip earlier in the year across Eastern Europe to revive interest in the market for sea-frozen wild-caught whitefish.
Mr Wallace said a smaller, more defined selection of fish allows the company to take a more focused approach to sales, "and target the main end-user markets for niche species of fish that are attracting more attention in the seafood world.
"One such fish is Patagonian Rock Cod. The product of an important fishery in the Falkland Islands, Rock Cod or Notothenia has in the past struggled with a poor image but recently the qualities of the fish, its pure white flesh and firm texture have started to be recognised."
New enquiries were received at the show from general visitors attracted to the stand by the prominent display of frozen fish that had been flown in especially for the event. Many attendees commented on the graphics used for the stand which centred on a seascape of Surf Bay taken by local photographer Julie Bellhouse.
Mr Wallace said the development of a marketing department marks a step change for Fortuna and its entry into the sector came at the right time.
Large European supermarket chains continue to expand in Eastern Europe and are starting to decentralise their purchasing departments giving local departments, responsibilities for sourcing products.
"Newly recruited supermarket managers welcomed the chance to be able to start collaborating directly with a foreign producer so soon and were impressed by the sales efforts of a small fishing company operating from such a remote location."
Mr Wallace said industry people are beginning to appreciate the real implications for sustainable fisheries and in-touch marketing.
Many restaurant buyers came to the show to find out more about the sustainability credentials of Falklands fish, he explained.
This month Fortuna Seafoods BV attended Polfish 2011, the largest trade exhibition in Central Europe. (Penguin News)