In milestone vote UN Human Rights Council approves gay rights
Saturday, June 18th 2011 - 03:19 UTC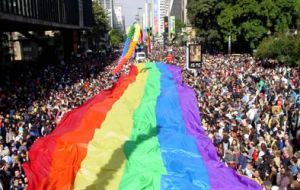 Despite strong opposition from Arab and African states, the UN Human Rights Council voted 23-19 in favor of a history-making resolution that supports equal rights for everyone regardless of sexual orientation or gender identity.
Three member nations abstained during the vote, which followed an explosive debate over the resolution that was proposed by South Africa.
The resolution states that "no one should be subject to discrimination or violence due to sexual orientation or gender identity." It also "affirms that all human beings are born free and equal in dignity and rights and that everyone is entitled to all the rights and freedoms … with distinction of any kind."
The US envoy hailed the resolution's passage.
"Today we make history in the fight for basic fairness and equality," US envoy Eileen Donahoe said. "Today we've taken an important step forward in our recognition that human rights are indeed universal. We recognize that violence against a person because of who they are is wrong.
"The right to choose who we love and to share life with those we love is sacred. Further, we send the unequivocal message that each human being deserves equal protection from violence and discrimination," Donahoe said.
The United States lobbied heavily to get the resolution passed and found strong support from Brazil, Colombia and other South American countries as well as European nations.
The resolution – the first of its kind at the UN -- is also significant because homosexuality remains illegal in 76 countries, and some of those nations execute LGBT people if convicted.
States supporting the resolution: Argentina, Belgium, Brazil, Chile, Cuba, Ecuador, France, Guatemala, Hungary, Japan, Mauritius, Mexico, Norway, Poland, Republic of Korea, Slovakia, Spain, Switzerland, Ukraine, Thailand, UK, USA, Uruguay.
States against the resolution: Angola, Bahrain, Bangladesh, Cameroon, Djibouti, Gabon, Ghana, Jordan, Malaysia, Maldives, Mauritania, Nigeria, Pakistan, Qatar, Moldova, Russian Federation, Saudi Arabia, Senegal, Uganda.
Abstentions: Burkina Faso, China, Zambia. Absent: Kyrgyzstan, Libya (suspended)
Co-sponsors of the resolution: Albania, Argentina, Australia, Austria, Belgium, Bolivia, Brazil, Canada, Chile, Colombia, Croatia, Cyprus, Czech Republic, Denmark, Estonia, Finland, France, Germany, Greece, Honduras, Iceland, Ireland, Israel, Italy, Luxembourg, Netherlands, New Zealand, Norway, Poland, Portugal, Romania, Serbia, Slovenia, South Africa, Sweden, Switzerland, Timor-Leste, United Kingdom of Great Britain and Northern Ireland, United States of America, and Uruguay