Argentina and Falkland Islands meet Tuesday at the decolonization committee
Monday, June 20th 2011 - 06:26 UTC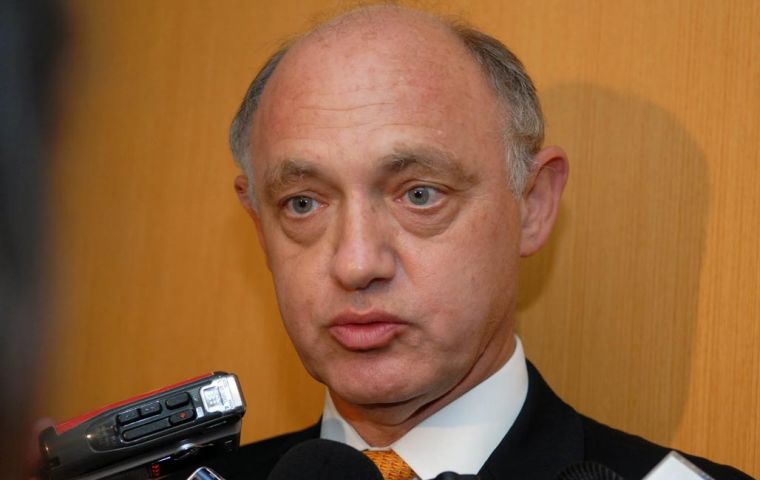 Argentina on Tuesday is scheduled to make its annual presentation before the United Nations Decolonisation Committee on the Malvinas Islands question, as it has been doing since 1989.

Two elected members from the Falkland Islands Legislative Assembly are also expected to make their presentations before the C 24.

The Argentine delegation is headed by Foreign Affairs minister Hector Timerman and lawmakers from all political parties

"The Malvinas question is a national cause which has all the support from the Americas and most of the country members of United Nations", said Mr. Timerman before leaving for New York.

The presentation in the UN follows several days of strong exchanges between the administration of President Cristina Fernandez de Kirchner and the British government.

The Argentine delegation also includes as petitioners who will be speaking before the C24: Alejandro Betts, a Malvinas born Islander who lives in Argentina since 1982 (end of the South Atlantic conflict) and Maria Angelica Vernet, the great-great-grand daughter of Luis Vernet who according to Argentine history books was head of the "political and military command of the Malvinas Islands and adjacent Cape Horn in the Atlantic Sea at the moment of the British usurpation in 1833"

On Tuesday as has been traditional the 29-member Decolonization Committee will examine a draft resolution usually sponsored by all Latin American countries at the C24 (Bolivia, Chile, Cuba, Ecuador, Nicaragua and Venezuela).

According to the Argentine Foreign Affairs release the resolution calls on the governments of Argentina and the United Kingdom to resume negotiations to find a peaceful solution to the sovereignty controversy related to the Malvinas Islands question, as soon as possible and in conformity with has bees established by the UN General Assembly resolutions.

Timerman is expected to present the Argentine position and insist with his government's willingness to find a peaceful negotiated solution to the sovereignty dispute, something which has been impeded by "the UK's systematic reluctance to resume negotiations, as well as the reiterated unilateral actions in which the occupying power is involved".

Last week British PM Cameron repeated that so as long as the Falkland Islanders in use of their right to self determination wish to remain British, "sovereignty is not negotiable", and that's the end of it.

The Argentine government called PM Cameron's attitude 'a display of regrettable arrogance' typical of "a coarse colonial power in demise" insisting that there is no end to history, "no end to the sovereignty claims over our Malvinas".

Further on President Cristina Fernandez on the campaign trail described PM Cameron's statements "as mediocre and almost stupid".

"Only arrogance and mediocrity fringing with stupidity can put an end to history", she underlined.

A Foreign Office spokesperson later repeated the long established UK position regarding self determination for the Falklands' people, "which has not changed at all" and recalled that the UK is always ready to discuss issues of common interest in the South Atlantic, but not sovereignty.