Uruguay presides over the UN Human Rights Council for the next 12 months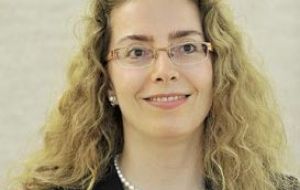 Uruguay in representation of the Group of Latin American and Caribbean countries (GRULAC) will occupy for the next twelve months the rotating presidency of the United Nations Human Rights Council which is seated in Geneva.
At the Monday ceremony Ambassador Laura Dupuy, which has specialized in human rights and the environment, thanked all countries for their confidence in Uruguay and particularly in her, to occupy the presidency of the sixth cycle of the Human Rights Council.
Ambassador Laura Dupuy recalled that Uruguay suffered over twenty years ago a military dictatorship which infringed human rights and basic freedoms, and her family was directly affected "when her father a political prisoner, was tortured as so many other victims, in my country and in the rest of the region, which I wish to honour".
The Human Rights council presidency is renewed every year and rotates among the five regional groups into which are organized the 47 country members of the Council and that are nominated by the UN General Assembly in a secret ballot. A third of the members are also renewed annually as happened Monday.
Latin America and the Caribbean hold eight seats in the Council: Brazil and Argentina were replaced Monday by Costa Rica and Peru, while Chile was voted in for another three year period. The other members are Ecuador, Cuba, Guatemala, Mexico and Uruguay.
The Council convenes ten weeks a year distributed among the months of March, June and September and usually holds special sessions as happened lately to address events in the Ivory Coast, Libya and Syria. However the UN High Commissioner for Human Rights which implements resolutions has warned the organization is short of funds to send "special rapporteurs" to a list of countries indicated by the Council.
The outgoing president Sihasak Phuangketkeow is from Thailand.
Among the issues in Ambassador Laura Dupuy's agenda are the special investigation commission for Libya, accused of war crimes, and Sri Lanka where two years ago 30.000 civilians were massacred, allegedly by the Colombo government at the end of a prolonged civil war.
UN Secretary General Ban Ki-moon sent a special report on the issue and there is an Amnesty International video showing the atrocities committed allegedly by "government forces".