Chile's volcanic ash cloud again visits Australasia forcing grounding of air traffic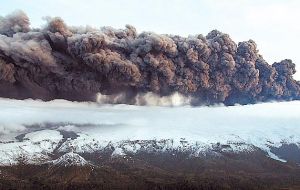 A volcanic ash cloud, which originated in Chile on 4 June and has caused significant disruption to air travel around Australia and New Zealand since 12 June returned on Tuesday to Australasia forcing further cancellations for at the least the next 48 hours.
Almost 100,000 passengers and 700 flights have been affected. The ash cloud is expected to continue to impact regional air travel for several more days.
The volcanic cloud first hovered over several Australian cities and New Zealand eight days ago but by Friday all flights were running normally again.
However the dangerous plume has now returned and is causing more problems as it is sitting at a dangerously low level over Australian airspace. The toxic cloud has a base height of 20,000 feet, preventing the operation of regular flights, as all planes taking off and landing would have to fly through it.
Qantas has had to bring forward flights to Europe via Bangkok and cancel flights across to neighbor New Zealand.
Its budget airline Jetstar also made similar cancellations in Sydney, Adelaide and Canberra, while Virgin Australia has also cancelled all flights to Adelaide, and flights through Canberra, Sydney and Melbourne. Tiger and Virgin Australia have also cancelled flights until further notice.
The Adelaide airport is the worst hit with the ash cloud hovering at less than 20.000 feet.
The head of the Australian Volcanic Ash Advisory Centre, Andrew Tupper, said the new ash cloud could seriously disrupt air travel in south east Australia for at least another 48 hours.
"The ash cloud is again touring the globe and is in its second circumnavigation", said Matt Wardell head of Air Services Australia which provides a forecast every three hours.
"This means we are at the mercy of winds, particularly as to how the cloud moves around", admitted Wardell.
Experts in Chile say that the Cordon Caulle volcano is becoming less active but it is still spewing out vast amounts of ash.