Solar energy conference in Chile brings together world experts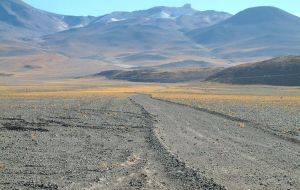 Chile, a country where the demand for energy has skyrocketed over the past decade, experts are gathering to discuss another answer to Latin America's increasing energy needs: solar power.
Tuesday night, government leaders, scientists, and investors gathered to kick-off the "First International Solar Energy Workshop," a four-day conference in northern Chile's city of Arica to discuss the latest developments in solar energy.
Supporters of energy solutions like HidroAysén, the five-dam project slated for Patagonia, argue that solar power is too expensive and not yet developed enough to be a realistic option for Chile. But others point to studies that show solar energy is becoming more and more competitive with traditional energy sources.
"Chile's solar energy resources are the best in the world," said Douglass Sims, advisor to the National Resource Defence Council (NRDC). "The decreasing cost of this technology coupled with the increasing cost of fossil fuels leaves many sources of Non-Conventional Renewable Energies (NCRE) that are currently competitive and will be even more so in the future."
What's more, as stated by NRDC lawyer Robert F. Kennedy Jr., most of Chile's energy demand comes from the mining industry in the country's solar-rich northern desert region.
"The Atacama desert is ideally suited to solar thermal production. It's got the altitude, 365 days of sunlight a year and power lines that already exist, and in most cases you're only a few miles from the industries you're powering" said Kennedy.
These unique natural resources, along with growing discontent over government approval of the HidroAysén project, make Chile an ideal setting for a workshop on alternative fuels.
"The northern part of Chile and countries like Peru and Bolivia have high levels of solar radiation, which presents great potential for the development of solar technologies," states the conference website.
The workshop will feature four world-renowned scientists.
Thomas Altmann, the former VP of Bechtel International and current Executive VP of ILF Consultants will present information on DESERTEC. As CEO of DESERTEC, Altmann is expected to talk about the group's efforts to harvest clean power from the desert.
Manuel Collares, director of R&D at the AO Sol Energias Renováveis (a Portuguese company that develops solar thermal collectors) will talk about the ways to concentrate and collect solar radiation.
Julián Blanco Gálve, the head of PSA (Europe's largest research facility dedicated to solar technologies) will speak on Chile's energy potential and ways to promote renewable energy.
Aldo Steinfeld, professor and head of the renewable energy program at ETH Zurich (Swiss Federal Institute of Technology) will speak about solar-powered electricity systems and solar fuels.
The conference agenda also includes presentations by the Chilean Economic Development Agency (CORFO), the United Nations Economic Commission for Latin America and the Caribbean (CEPAL), and Chile's Renewable Energy Center (CER).
In addition to scientists and governmental leaders, investors in the private sector are expected to attend the conference since Piñera's proposed "Public Electric Highway" could drive consumer demand for solar products. The network would allow individual households to contribute energy to the country's power grid through renewable sources like solar panels .
By Erin Allen – The Santiago Times