Chile's fourth retail chain collapses under 1bn USD debt; super manager contracted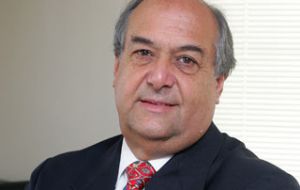 La Polar, Chile's fourth largest retail chain is in deep water. Company stock has fallen 80% in the last two weeks and the entire board of directors has offered to resign.
Accusations have been flung at everyone who "should" have seen the crisis coming. So it makes sense that La Polar would select César Barros as their new president.

Barros is, after all, the man who led the country's salmon industry out of a spiralling nosedive into a promising ascent.
La Polar scandal erupted two weeks ago when the company estimated that it would need an additional 400 million US dollars to cover liabilities from "unauthorized practices." The estimate took investors completely by surprise, causing broad alarm and triggering further investigations.
The key is the company's credit department. La Polar, like several other retailers in Chile, offers its own credit card.
According to internal company sources, the credit department was restructuring super-outstanding debt (unpaid six or more months after due) without customer agreement, in order to portray company finances as healthier—or less risky—than they really were.
For some customers, their total debt increased by more than 100% due to renegotiations.
When the National Consumer Service (Sernac) opened a civil lawsuit on behalf of cardholders against La Polar, the company's board of directors began internal investigations that led to the admission of "unauthorized practices."
Since then, it has been revealed that 420,000 clients had their debts renegotiated without their consent, almost 35% of La Polar cardholders.
The original US$400 million estimate of illegally accumulated debt has more than doubled to US$900 million.
Although a number of public and private organizations including La Polar are pursuing civil and criminal investigations to find out who can be held responsible for the "unauthorized practices," a second concern is that the company might fail.
Company stock has already fallen in price from 2,300 pesos (US$4.88) to 475 pesos (US$1.01) since the announcement two weeks ago.
One quarter of La Polar stock was owned by the government's private pension funds (AFPs), which invest individual Chileans' social security payments. So the La Polar loss has a direct and widespread impact.
Furthermore, Chile's Chamber of Commerce has lauded La Polar and other non-bank financial institutions for providing credit to low-income sectors that have trouble obtaining credit from larger lending institutions like banks.
César Barros will be the third La Polar President in 12 days, but the first from outside the company as it tries to get a hold on the financial crisis at hand.
Barros was president of SalmonChile, the major Chilean salmon industry group, when the infectious salmon anaemia (ISA) Virus devastated the industry between 2007 and 2009. The global financial crisis of the late 2000s exacerbated the problem because the industry had more trouble borrowing during its time of need.
Barros remained president of SalmonChile through the crisis and was recently re-elected for another two years. However, Barros has now resigned from the position.
Upon his resignation, the industry group said that Barros "showed leadership to bring diverse groups together to lift our industry out of the worst crisis that it has faced in its 30 years of life."
By Benjamin Schneider – The Santiago Times