G20 farm ministers agree to boost output and food market transparency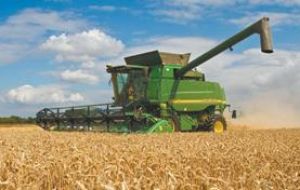 The G20 farm ministers' summit in Paris agreed on Thursday measures to tackle high food prices in a deal that steered clear of divisive details and paved the way to greater international cooperation on sensitive agricultural issues.
The action plan to boost agricultural output, food market transparency and policy coordination reflected many of France's ambitious proposals for its G20 presidency this year but it fell short of calls by Paris for a tough crackdown on speculators.
The members of the group that produces 85% of the world's agricultural output praised France for putting the issue of food security and price volatility in the limelight, saying more talks were now needed to flesh out G20 policies.
"Are we going to solve food security at this meeting? definitely not, but it is really setting up a platform for action," Saudi Farm Minister Fahad Balghunaim told reporters.
Under the deal, the Group of 20 nations agreed to exclude humanitarian aid from export restrictions, and explore the implementation of humanitarian food aid stocks, measures that sources said had been among several sticky issues.
"While the United States has always had some concerns about reserves I think we need to keep an open mind as we study the feasibility of smaller-scale, strategically placed reserves," US Agriculture Secretary Tom Vilsack said.
On regulation, G20 ministers "strongly encouraged" finance ministers to take decisions for better regulation of agricultural financial markets, leaving it up to them to adopt concrete measures on an issue that pits France against countries like Britain which have little interest in more regulation.
"We recognize that appropriately regulated and transparent agricultural financial markets are indeed key for well-functioning physical markets," the G20 communiqué said.
Paris has taken a hard stance on negotiations in recent days, saying it would not sign a half-hearted deal that did not take a tough line on speculators, whom President Nicolas Sarkozy blames for surging food prices and unrest in some countries.
World food prices hit a record high earlier this year, reviving memories of soaring prices in 2007-08 that sparked riots in developing countries, and giving fresh urgency to the debate about how to improve a global food system that leaves some 925 million people hungry.
France had wanted all G20 countries to commit themselves to imposing position limits – a curb on how much of the market an investor can buy into – and this was mentioned in the final communiqué, which French sources deemed "an unexpected success."
Sarkozy is trying hard to score victories on the global stage as he pushes to lift his approval ratings from little over 30% 10 months before what promises to be a tough re-election battle.
The G20 agreement also skirted any forceful statement on bio-fuels, only recognizing the need for further analysis on its influence on food production.
International charity ActionAid said that was regrettable. "As a result, more countries will follow the lead of the US where 40 percent of the corn crop is burned for fuel while the world teeters on the verge of a food crisis," said ActionAid senior policy analyst Marie Brill.
Brazil, a major producer of sugar-based ethanol, has been staunchly opposed to suggestions bio-fuels contribute to rising food prices, while the United States has been sceptical on the idea of developing food stocks for humanitarian purposes.