Paraguay's economy expands 4.6% in first quarter; down 0.7% from previous quarter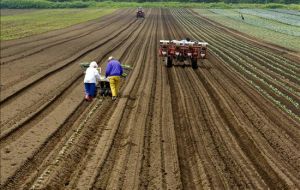 Mercosur full member Paraguay's economy expanded 4.6% in the first quarter of 2011 compared to a year ago boosted by agriculture in spite of a slowdown in cattle farming and construction, according to the country's Central bank latest report.
However the first quarter of 2011 was down 0.7% compared to the previous quarter, following seven consecutive quarters of expansion.
The accumulated expansion in the last twelve months was 11.8% said the Central bank anticipating Paraguay's GDP will grow 4.5% this year following last year's record of 15%.-
Growth in the first quarter of this year was supported by an excellent performance of agriculture, particularly the soy bean crop, which has become the country's main export item.
The bank also underlined the positive business climate in the region, mainly Mercosur partners Brazil and Argentina which are also among Paraguay's main trade associates with China.
However cattle farming suffered a slight contraction because of a drop in the volume of beef exports in the first quarter.
Similarly with construction which experienced a strong slowdown following several consecutives expansion quarters, mainly due to a shortage in the provision of cement which impeded to keep the level of activity, underlines the bank report.