Release of strategic reserves (to counter Libya's absence) rattles world oil market
Thursday, June 23rd 2011 - 23:19 UTC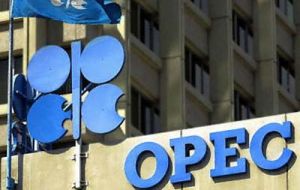 Oil rose in New York, recovering from a plunge sparked by an International Energy Agency announcement that its members will release crude from strategic reserves.
Oil for August delivery climbed as much as 1.5% to $92.34 a barrel in electronic trading on the New York Mercantile Exchange. Crude on Wednesday slid 4.6% to $91.02 a barrel, the lowest settlement since Feb. 18.
The IEA announced the release of 2 million barrels a day for 30 days beginning next week to help make up for a Libyan supply disruption.
Brent oil for August delivery on Wednesday fell $6.95, or 6.1%, to $107.26 a barrel on the London-based ICE Futures Europe exchange, the lowest price since Feb. 22.
Half of the 60 million barrels of crude from the IEA release will come from the US Strategic Petroleum Reserve, according to the IEA and the US Energy Department.
The announcement from IEA, a group of more than two dozen countries, covers only what the world uses roughly every 16 hours. But it was enough to cool oil prices.
In addition to helping the struggling economies of the U.S. and Europe, analysts said the move was meant as a rebuke to OPEC, which has refused to increase oil production to bring down prices.
It will be the largest sale of crude ever from world strategic reserves and only the third since the IEA was formed in 1974 after the Arab oil embargo. The IEA released oil in 2005 after Hurricane Katrina and in 1990 and 1991 after Iraq invaded Kuwait.
The IEA said high oil demand and shortfalls of oil production caused by unrest in the Middle East and North Africa threatened to "undermine the fragile global economic recovery."
The uprising in Libya has taken 1.5 million barrels of oil per day off of the market, half a million barrels less than will be released each day by the IEA.