Zamin Ferrous project in Uruguay to be submitted to referendum, says President Mujica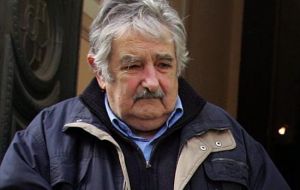 President Jose Mujica said that Swiss-based Zamin Ferrous iron-ore project feasibility study for an 18 million mt/year project has not been approved and given the controversy that has surfaced he supports the idea of holding a referendum on the project.
Three ministers, Industry and Mining, Environment and Tourism have been summoned to Uruguay's parliament to explain the latest government decisions on the project which has growing resistance from farmers and tourism agents, fearing the impact of open pit mining and a 215 km slurry pipeline to transport the iron ore to a port to be built in prime ocean coast.
Zamin is pursuing the Valentines project through Minera Aratiri and its plans entail mining Uruguay's centrally located deposit with a current JORC resource exceeding 2.1 billion US dollars and shipping the ore through a slurry pipeline to a dedicated port for export. There is potential for resources to reach in excess of 5 billion metric tons, according to a company's statement.
Last Sunday President Mujica questioned about the feasibility of the project said that "I won't, nor them (Zamin Ferrous) for that matter will solve the issue; it's the people who will decide, and you'll have to vote".
However if the referendum initiative goes ahead the whole project will be delayed. A bill on a consultation referendum (non existent in Uruguay law) must first be drafted and approved, promulgated, regulated and finally wait to see what people decide once the balloting is organized.
"The multinational corporation must give us full guarantees of environment protection; we won't allow the project to advance if we don't have those guarantees", said Deputy Industry and Mining minister Edgardo Ortuño.
"The corporation still has to present additional information and the government has also to conclude its own studies about the project and potential environmental and social impacts", added Ortuño.
Valentines has become Zamin's main development-flagged asset after a 1 billion USD sale of iron ore resources in Brazil's Bahia state to Eurasian Natural Resources Corp. in two deals, the last completed in September 2010.
"Zamin has potential investors such as Asian and Middle East steel sector off-takers and large global mining groups in talks to take a stake of up to 49% in the project", said Marting Kannengieser head of business development. That may also extend to Zamin Ferrous to gain interests also in Brazil through the company's portfolio of projects, the executive mentioned.
The project's resources have been upgraded from just under 1 billion metric tons in JORC-compliant resources verified as of the end of October based on company data at the time. Project commencement is targeted for end-2013 or 2014, Kannengieser said.
Zamin has signed several non-binding accords with Chinese and Middle Eastern steel mills for the project's 28% magnetite ore expected to produce a concentrate with of 68-70%-Fe and impurities of silica and alumina of less than 2%, the company said. The product would be a pellet feed but there are no plans for a pelletizing plant to be built.