Britain says Brazil has the best science base outside the G8
Friday, June 24th 2011 - 11:07 UTC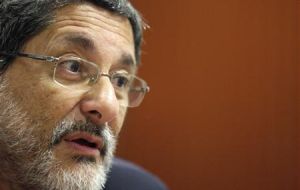 The UK said that Brazil has the best science base outside the G8, and Brazil's state-controlled oil and gas giant Petrobras CEO Jose Sergio Gabrielli predicted that his country will shortly become the world's largest market for deep offshore oceanic hydrocarbon exploration equipment.
Talking to journalists on the sidelines of a Brazilian-UK panel on energy generation in Rio de Janeiro Gabrielli said, "In terms of growth possibilities, in the next 10 years, most of the discoveries will come from Brazil".
A spokesperson for the UK Trade & Investment (UKTI) government agency told reporters, "Developing closer ties on technology is a priority in the bilateral relationship. The UK and Brazil have much to gain through working together. In many respects the two countries are a natural fit".
"Brazil has the best science base outside the G8 and the UK is at the cutting edge in a number of sectors notably low carbon research and development".
Gabrielli predicted that in the immediate future, "we will see a reduction of the consumption of oil by-products in the U.S., Europe, and Japan, and an increase in consumption in China, India, Brazil, and Africa, where there is accelerated economic growth and social inclusion" according to reports from the local press.
"There will be new logistics and perspectives in the oil geopolitics in the next years" underlined Gabrielli.
Brazil's offshore reserves have attracted British attention, as this week British Trade Minister Lord Green led a trade delegation to Brazil to promote for business.