Sao Paulo celebrates Gay Pride Day with the largest world turnout
Monday, June 27th 2011 - 05:33 UTC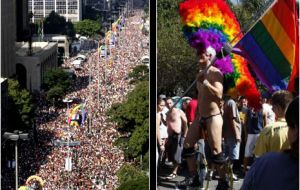 Hundreds of thousands of people dancing and wearing costumes packed on Sunday the streets of Sao Paulo, South America's biggest city to celebrate June 26 gay pride day and call for an end to homophobia.
Gays, lesbians and their supporters in Sao Paulo, Brazil, participated in the city's 15th annual gay pride parade on skyscraper-lined Avenida Paulista. Many danced to the beat of loud music blasting from several sound trucks.
Organizers were expecting more than 3 million to join the parade, which they say is one of the biggest in the world. Police have not given an estimate of how many people are parading.
Police reported a few arrests for drug possession but say no major incidents have occurred.
Organizers Sao Paulo's Lesbians, Bisexuals, Transvestites and Transsexuals, LGBT, relies on a wide array of partners to enliven the month of June and highlight the issues of the organization.
This year the Gay Pride also pointed to the 10th anniversary of anti-homophobia law in Sao Paulo, and the effort to expand it to a federal level.
In fifteen years, Sao Paulo's LGBT Pride Parade went from 2.000 people in 1997, to being the largest public event of its kind in the world.