US consumer spending flat in May reflecting a fall in auto sales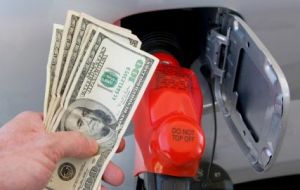 Consumer spending in the United States was unchanged in May for the first time in almost a year, likely reflecting a plunge in auto sales, according to a US government report, that also showed a build-up in underlying inflation pressures.
The flat reading in consumer spending came after 10 straight months of gains, the Commerce Department said, and followed a downwardly revised 0.3% gain in April.
When adjusted for inflation, spending fell 0.1% in May, declining for a second straight month. Spending on durable goods fell 1.5% after being flat in April.
May's weak reading suggests that consumer spending, which has been hampered by high gasoline prices, in the second quarter will be much slower than the 2.2% annual rate recorded in the first three months of the year.
The personal consumption expenditures price (PCE) index rose 0.2% after rising 0.3% in April. Compared to May last year, the index was up 2.5%, the largest rise since January 2010, after increasing 2.2% in April.
The core PCE index - excluding food and energy - increased 0.3%, the largest increase since October 2009, after rising 0.2% the prior month.
The core index, which is closely watched by Federal Reserve officials, increased 1.2% in the 12 months through May, the biggest increase since August. The index rose 1.1% year-on-year in April and the Fed would like to see it close to 2%.
Incomes rose 0.3% last month, slightly below expectations for a 0.4% increase. Incomes gained 0.3% in April.