Argentina promises to end fluvial obstacles to land-locked Paraguayan trade
Tuesday, June 28th 2011 - 16:32 UTC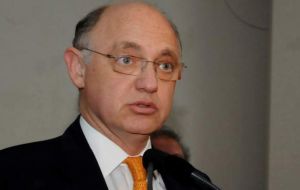 Foreign Affairs minister Hector Timerman in Asuncion for the Mercosur summit promised on Tuesday Argentina will put an end to fluvial obstacles to Paraguayan trade. Landlocked Paraguay trades with the rest of the world through the Parana River, most of which crosses Argentine territory.
"We are trying to solve the issue", said Timerman in an interview with several Paraguayan television channels before the Common Market Council meeting that normally precedes the Mercosur summit, and brings together Foreign Affairs and Economy ministers and central bank governors.
"We are doing our best and I can assure you we'll find a solution" said Timerman. Paraguayan trade and industrial organizations claim Argentine unions sponsored by Argentine business interests have been blocking trade along the Paraná River alleging "labour conflicts".
In the eve of the Mercosur summit, several business organizations from Paraguay made statements claiming the South American trade group has proven to be a 'fiasco' because of the reiterated obstacles and non-tariff impediments imposed by senior members Argentina and Brazil to inter-region trade.
Paraguayan Foreign Affairs minister Jorge Lara Castro hosting the meeting said that ministers from the four full Mercosur members will be accompanied during the meeting by representatives from associate members Chile, Peru, Ecuador, Bolivia and Colombia and from Mexico and Japan.
Meanwhile from Buenos Aires it was announced that President Cristina Fernández de Kirchner suspended her trip to Asunción for the Mercosur summit, after being advised against travelling by her doctors due to the head injury she suffered last Wednesday.
"After the fall the President suffered last Wednesday, in which she suffered a small head injury, the Presidential Medical Unit has advised the head of State to not travel by airplane for the moment, as a precautionary measure. However, the President will continue with her daily activities," said an official representative.
The statements were confirmed by the Presidential Medical Unit doctor, Marcelo Ballesteros.
The President "will however continue with planned activities, attending a ceremony presenting a new security plan Tuesday afternoon", said the report.
Nevertheless the Argentine presence will not be diminished since the running mate of Cristina Fernandez de Kirchner for next October presidential election, Economy minister Amado Boudou is participating of the Mercosur deliberations.