Growing demands for information on President Chavez health condition
Tuesday, June 28th 2011 - 06:25 UTC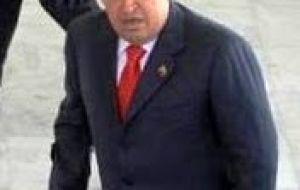 Demands by Venezuela's opposition for information on President Hugo Chavez's health grew louder Monday and bond prices rallied on speculation the populist leader could be seriously ill.
The firebrand former soldier has not been seen in public since an operation in Cuba to remove an abscess from his pelvis on June 10, fuelling a torrent of rumours and uncertainty roiling South America's biggest oil exporter.
The government says he is fine, some rivals believe he has prostate cancer, and others suspect it is all a strategy for him to return triumphant to Venezuela to host a regional summit on the country's 200th anniversary of independence.
Opposition politicians, who will try to topple Chavez at an election next year, accuse the government of neglecting its constitutional duty to tell the people what is going on.
"After 21 days of Chavez's absence the country is getting worse and the government remains abysmal," former presidential candidate Manuel Rosales said in a statement.
"The nation needs a clear message that will end this national and international speculation, as well as the discomfort and suspicion caused by the mysterious silence."
Defence minister General Carlos Mata Figueroa said that President Chavez is undergoing a "quick recovery process" and "the Armed Forces are praying for him to recover even faster so he can be with us for the great military parade" of July 5.
The saga has underlined the famously workaholic and baseball-loving 56-year-old's total dominance of politics in the country as well as the lack of any obvious successor.
Chavez is due to host the July 5-6 regional summit on the Caribbean island of Margarita that coincides with Venezuela's 200th anniversary of independence from Spain