KLM will begin fuelling some of its flights with used cooking oil
Wednesday, June 29th 2011 - 23:03 UTC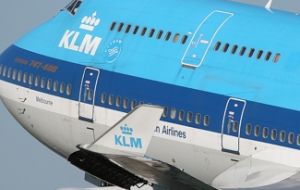 Dutch carrier KLM announced Wednesday it would begin using used cooking oil for some of its flights. The announcement comes less than two years after the airline flew the first bio-kerosene-fuelled passenger flight in Europe.
Used cooking oil from factories and hotels will fuel KLM flights between Amsterdam and Paris beginning September. According to the airline, the fuel will meet the same technical specifications as those of conventional kerosene. No changes to engines or aircraft infrastructure will be required to use the new fuel.
Approval for the use of bio-fuel in aviation is expected soon in Europe. KLM, the world's oldest airline operating under its original name, hopes the move will result in a positive recommendation from the Sustainability Board of the Netherlands.
KLM launched the first plane powered with bio-kerosene on the continent in November 2009 when it flew a select group of passengers with one engine running on 50% used cooking oil and 50% aviation kerosene.
Other carriers are similarly exploring the use of bio-fuels to improve sustainability and lower carbon emissions.
Continental, Japan Airlines and Virgin Atlantic are among those that have tried using fuel sustainably made from sources such as algae, coconut oil and jatropha.
Brazilian airline TAM partnered with Airbus last year to become the first to fly a bio-kerosene-fuelled plane in Latin America.
KLM bio-kerosene is supplied by SkyNRG and made by Dynamic Fuels, a United States-based joint-venture of Tyson Foods and Syntroleum Corp. Dynamic Fuels operates a plant in Louisiana that is recognized as the first US industrial-scale production facility for bio-fuels. The company makes fuel from animal fats such as inedible porcine fat, vegetable cooking oil used in frying, fat from wash water in beef rendering and from factory cooking operations, and unrefined, inedible soybean oil produced from the refining process.