Mercosur 'structural convergence fund' has distributed 1.1bn USD in 37 projects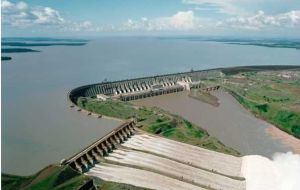 Mercosur structural convergence fund, Focem, which was created in 2005, has distributed 1.1 billion US dollars among its full members for the implementation of 37 projects basically to improve roads for inter-region and international trade, according to official figures released in Asunción.
Paraguay which holds the group's rotating chair until this week has been the most benefited with the soft loans totalling 822 million US dollars, followed by Uruguay with 191 million USD, Brazil, 45 million and Argentina, 27 million.
As of Wednesday Uruguay will hold the Mercosur chair for the next six months Focem was originally created to help gradually eliminate structural asymmetries particularly for Mercosur junior members Paraguay and Uruguay, no match for the Brazilian and Argentine economies.
"Paraguay has been able to build since 2009 not only all-weather roads for transporting farm produce to market but also the construction of a 500 KW grid and 300 kilometres of electricity lines in support of industry, housing and supply of drinking water", said Efrain Alegre, a former Paraguayan Public Works minister.
The 500KW grid refers to a new high power line that will feed Paraguay's capital Asuncion directly from the world's largest operational hydroelectric dam Itaipú, jointly shared by Paraguay and Brazil.
Former Paraguayan president Nicanor Duarte (2003/2008) was one of the promoters for the creation of Focem arguing that when Mercosur was launched in 1991, it did not take into consideration the structural asymmetries as factors that determine competitiveness, "even when the initial program to gradually eliminate tariffs did admit the existence of differences that favoured the larger economies".
Current President Fernando Lugo who is hosting the summit has also taken full advantage of the Focem development funds.