Trade in local currencies and tariffs on the Mercosur agenda for discussion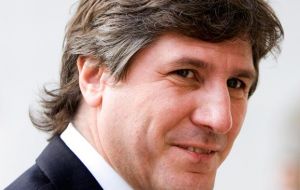 Argentina Economy Minister Amado Boudou said that the idea of appealing to an only shared currency by Mercosur members generates 'doubts' given the European experience, and feels more inclined 'to stimulate trade with local currencies", so that each member country can take advantage of monetary policy macroeconomic instruments.
Speaking in Paraguay, ahead of the Mercosur presidential summit, Boudou said that the Euro experience with some periphery countries bound to the straight-jacket of a strong currency, leaves small and mid sized economies with no margin for monetary policy since they do not dominate the currency or interest rates.
His statements are particularly significant since Boudou was nominated by President Cristina Fernandez de Kirchner as her running mate in the presidential ticket for next October elections. Opinion polls indicate that Cristina Fernandez takes off with a considerable handicap while the opposition presented several candidacies thus atomizing their chances.
Boudou also mentioned the fact that the Argentine president following doctors advice would not be participating of the Paraguay summit.
"The president received a small blow on the head when she tripped so she is under medical attention, but for this meeting we have been instructed to reach and promote agreements that strengthen regional trade", said Boudou.
"We have many pending issues in the region that we need to address, analyze and agree on such is the case of the elimination of the common external tariff double-charge and the free circulation of persons and goods", pointed out Boudou.
However the issue has been on the table for some time and Paraguay and Argentina are not entirely convinced. Paraguay because as a Mediterranean country and with no access to the sea all its foreign trade must cross through neighbours' territory and tariffs would be collected either in Argentina, Brazil or Uruguay, and not in Asuncion.
"In the event of the elimination of the common external tariff double charge, for all merchandise coming through the River Plate to Paraguay, one could anticipate complications for our financial system since tariffs would be collected in Buenos Aires and not in Asuncion", said Gustavo Volpe, president of Paraguay's Industrial Union.
In the case of Argentina the problem stems from the fact the country taxes heavily exports of oil-seeds, grains, meats, dairy produce, mostly commodities and on the other hand limits imports by other mechanisms, such as non automatic licences, with the purpose of promoting local industry and creating jobs.
Paraguay's Foreign Affairs minister Jorge Lara Castro said the meetings working up for the Mercosur summit were an excellent opportunity to address Paraguay and Uruguay asymmetries relative to the larger economies of Argentina and Brazil. "It will take time but we are working on that", he said.