UN Economic Commission raises Latam's growth estimate: 4.5% to 5%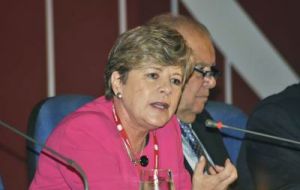 The UN Economic Commission for Latin America and the Caribbean, Eclac, raised its 2011 growth estimate for the region to between 4.5% and 5%, said Executive Secretary Alicia Bárcena.
ECLAC previous estimates were in the range of 4.2%, said Bárcena, but strong recovery in Ecuador (over 8% in the first quarter) while Argentina and Paraguay recorded expansion higher than the original official estimates.
"This means we are talking at least of 4.5% to 5%, and we have even more positive projections", indicated Ms Bárcena during a conference in Paraguay in the framework of the Mercosur presidential summit.
"We are processing the latest data because we are still receiving numbers from the first half of the year" said ECLAC chief. "The Argentine economy is going to expand 7% or even more this year and Paraguay is pushing ahead of the 6% estimate for the year, well above the two countries forecasts".
Following Ms Barcena's presentations there was an exchange of ideas among members of the panel who agreed that Mercosur growth rate for the year will be comfortably above the world average, but it is also important to preserve 'home markets for domestic production'.
"This must be done by implementing mechanisms curtailing cheap imports from the Far East", said the Argentine delegates. "We believe a policy of substituting imports is a good way to help keep the domestic market and local jobs".