OECD warns the Euro Central Bank about 'aggressive' hike of interest rates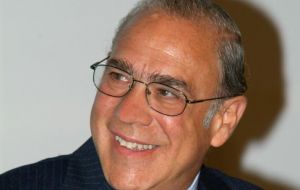 The European Central Bank should not hike interest rates aggressively and wait for stronger Euro zone growth before increasing rates after this week's expected move, OECD head Angel Gurria said on Monday.
The ECB second rate hike of the year, a move that will lift Euro zone rates to 1.5%, is seen as a virtual certainly on Thursday after the bank's recent reiterations that it is in a mode of "strong vigilance" -- a phrase traditionally used to signal an upcoming rate rise.
Beyond that, Gurria warned against tightening policy too quickly, "I would not recommend aggressive tightening and I don't think we will have it".
"It is right to send a signal but I would give it some time. Let's see where things settle," he said, adding that commodity prices had fallen and core Euro zone inflation was contained while growth in the bloc was slowing.
He also hit out at the handling of the Greek debt crisis.
"Every day we have a new plan. We haven't coordinated very well and we have failed to consult the most important players", said Gurria adding that "we are still not there (with the Greek plan), the ultimate solution must include creditors" he added.