Brazil and UK discuss defence cooperation and Atlantic security in London
Tuesday, July 5th 2011 - 18:50 UTC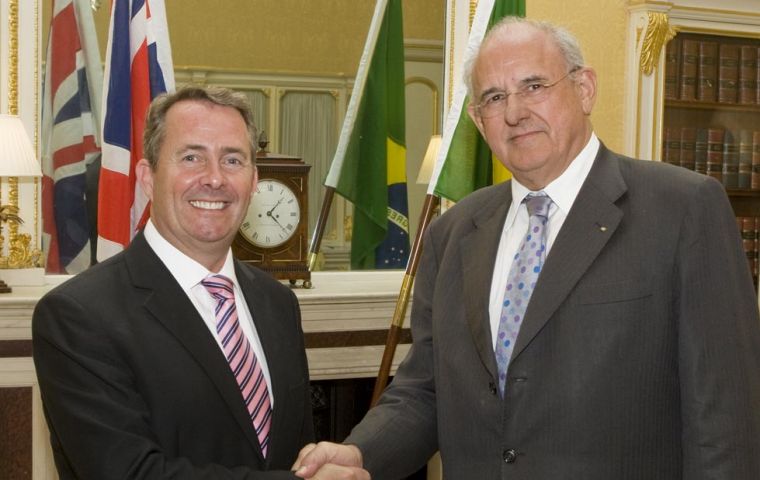 Strengthening Brazil-UK defence cooperation agreement and building Atlantic and wider security are among the issues to be addressed by UK and Brazil during the three day visit of Defence minister Dr Nelson Jobim to Britain
Britain's Secretary of State for Defence, Dr Liam Fox welcomed his Brazilian peer Dr. Jobim to London on Tuesday with a ceremonial guard from King's Troop Royal Horse Artillery and with an opening address delivered in English and Portuguese at Lancaster House, said an official MoD release.
Today's visit is the first by the Brazilian Defence Minister to the United Kingdom. Anglo-Brazilian relations have always been strong and this visit will further reinforce these ties. The 3-day programme will include a demonstration of military equipment and British industry at St John's Wood barracks, a trip in a fast patrol boat and a Type 45 Destroyer at RNB Portsmouth and an opportunity to see the construction of the Queen Elizabeth class carriers. The Brazilians will also make a tour of the London 2012 Olympic Site in advance of their preparations to host the 2016 Olympics.
Dr Liam Fox in his speech at Lancaster House said that "the "The United Kingdom and Brazil are firm friends with a long and mutually beneficial history. The task before us now is to build on our friendship so together we can face the challenges of the future.
"The 21st Century will be one of shared security and shared prosperity. Brazil is poised to take a central role on the world stage – as an economic force with a growing international voice – as an environmental superpower and a development success story. We welcome your increasing role in maintaining international stability and security."
During the visit the Defence Ministers discussed a range of issues looking to strengthen the Brazil-UK friendship as part of an important building block of Atlantic and wider security.
Defence relations were strengthened by the official signing of a Defence Cooperation Treaty in September last year during a visit to Brazil from Gerald Howarth, Minister for International Security Strategy.
Dr. Jobim's return visit to London is "a sign of Brazil's commitment to the UK and recognition of the British Military highlighting the best capabilities and technologies that Britain has to offer".