IMF transparency reveals Lagarde's salary and strict ethics requirements
Tuesday, July 5th 2011 - 20:02 UTC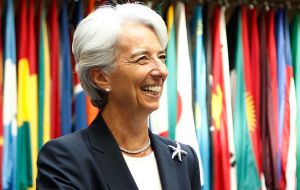 The IMF revealed its new managing director Christine Lagarde who took office on Tuesday will receive an annual salary of 467,940 US dollars net of income taxes and told her to "observe the highest standards of ethical conduct."
The IMF released the terms and conditions of Lagarde's employment Tuesday, her first day on the job. She is scheduled to hold a news conference Wednesday at the IMF headquarters in Washington.
"As managing director, you are expected to observe the highest standards of ethical conduct, consistent with the values of integrity, impartiality and discretion," according to her employment conditions released today. "You shall strive to avoid even the appearance of impropriety in your conduct."
Lagarde, 55, the first woman to run the IMF is a former French Finance minister and will also receive an annual allowance of 83,760 USD net of income taxes, according to the IMF terms and conditions.
The requirements on ethics did not appear in the contract of her predecessor, Dominique Strauss-Khan, who resigned in May after being charged with sexual assault.
Strauss-Kahn took over in 2007 with an annual salary of 420,930 USD net of income taxes. The salary was adjusted for inflation each year starting in 2008, according to the terms and conditions posted on the IMF website. Strauss-Kahn received an allowance of 75,350 USD that was also adjusted for inflation.
Lagarde takes the helm of the IMF not at an easy time. Perhaps the first task of her five-year term will be to deal with the efforts of the IMF and European Union to resolve the Greek debt crisis and prevent contagion to other Euro zone economies.
However there are others worries too: the global economy seems badly off balance, with high inflation in China, sluggish growth in the US and Europe and a risk of overheating in some developing economies.
After her appointment, Ms Lagarde said her "overriding goal" would be that the IMF "continues to serve its entire membership".
"As I have had the opportunity to say to the IMF board during the selection process, the IMF must be relevant, responsive, effective and legitimate, to achieve stronger and sustainable growth, macroeconomic stability and a better future for all."
She also said she wanted to unify the IMF's staff of 2,500 employees and 800 economists and restore their confidence in the organisation.