President Rousseff relations with 10 party coalition remain strained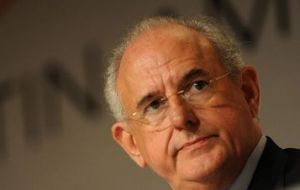 The six-month old administration of Brazilian President Dilma Rousseff's is again under strain following on her strong character reactions, thus casting doubts about the passing of her legislative agenda, which is already considerably delayed.
Over the weekend President Rousseff ordered Transport Minister Alfredo Nascimento to suspend several of his top aides following on the news magazine Veja claims the officials were charging a 5% kickback fee on projects coming through the ministry.
A statement issued by Rousseff's office said she "has confidence" in Nascimento and that he was responsible for investigating the problems at the ministry. The president was scheduled to meet the minister this week to talk about the matter.
The allegations and Rousseff's role in the suspensions could trigger more friction within the 10 parties that she relies on to pass legislation. Nascimento's Party of the Republic is small, but Rousseff's relations with bigger parties such as the PMDB have frayed due to disputes over budget cuts and appointments to plum government jobs.
The sour mood in Brasilia, highlighted by the resignation of Rousseff's chief of staff last month (Antonio Palloci) amid a separate scandal, has paralyzed key reforms such as an overhaul of the tax code, efforts to prepare Brazil to host the 2014 World Cup, the controversial forestry bill and disputes over the release of documents related to Brazil's recent dictatorial past.
Making things more complicated Defence Minister Nelson Jobim, a respected former magistrate and who held the same post with the administration of Lula da Silva lamented before a roomful of legislators last week that he has to tolerate an ever-greater number of "idiots."
Jobim, a PMDB leader, made the comments at an 80th birthday celebration for former President Fernando Henrique Cardoso, a figurehead of the main opposition party. Jobim served as Cardoso's justice minister in the 1990s.
Jobim also lauded Cardoso for "never raising his voice toward anyone" and "never creating tension among his advisers", which many observers interpreted as a direct criticism of Rousseff, who has a reputation for dressing down subordinates in a loud and public fashion.
After a long meeting with Rousseff on Friday, Jobim said his comments were misinterpreted, and that the "idiots" were journalists who disparaged Cardoso's legacy.
Jobim who also opposes declassifying documents from the time of the military dictatorship is apparently wishing to retire from government but has opted to remain in the job in part because his resignation could provoke an even greater crisis between Rousseff and the PMDB, the largest party in the ruling coalition.