Uruguay re-opens human rights violations from the 1973/1985 military regime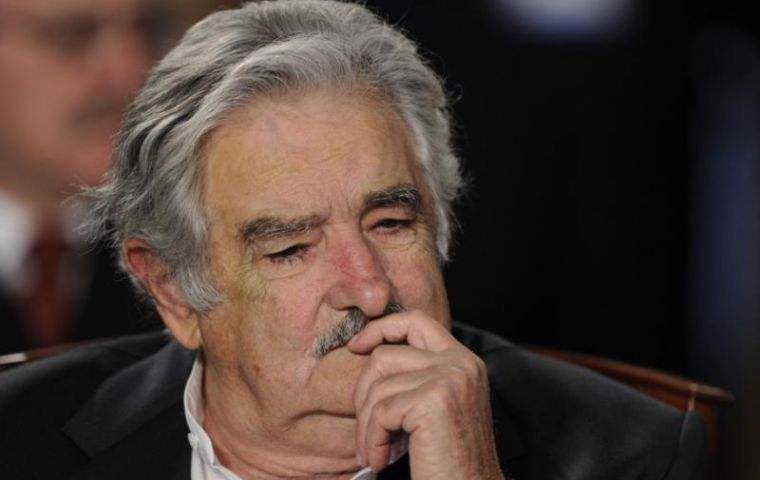 Uruguay's government announced June 27 that it will reopen more than 80 human rights violations allegedly committed during the 1973-85 military dictatorship. The decision follows a long legislative battle but nevertheless remains highly controversial since the latest opinion polls indicate a majority of Uruguayans, 55%, want an end to the discussion.
Marking the 38th anniversary of the coup that started the regime, President José Mujica's administration said the probe will override the amnesty law passed in 1986 that had withstood a referendum in 1989 and which voters again failed to knock down in another referendum vote in 2009.
Last May, lawmakers failed to overturn the law in a tense vote. Under the law, that was passed by the elected government of President Julio María Sanguinetti, who governed from 1985 to 1990 and from 1995 to 2000, cases tried would go ahead at the discretion of the Executive, not the judicial branch.
The 1986 amnesty law for the military and police officers that could have committed human rights crimes between 1973 and 1985 was the matching bill that benefited guerrillas, supporters and all those who had been sentenced and were in jail or in exile for crimes committed since 1962.
The two bills were part of a political agreement reached when the return of democracy process that signalled a huge step forward with the November 1984 elections.
The vote in Parliament was taken on March first 1985, the official day in which democracy was reinstated and the bill, a week later, opened the jails and freed hundreds.
Among those benefited by the 1985 bill was President Mujica, a former Tupamaro guerrilla who was jailed in 1972 and never had a chance to fight the military dictatorship (1973). Furthermore President Mujica has admitted having promoted and having belonged to an "armed political party" that fought elected governments in the late sixties and early seventies.
Presidential secretary, Alberto Breccia, said President Mujica decided to knock down the administrative barriers to trying the cases for "ethical reasons". A prerogative contemplated in the 1986 so called Expired-crimes law.
Earlier this year, the San José, Costa Rica-based Inter-American Court of Human Rights, an arm of the Organization of American States, ruled that Uruguay must investigate and punish those responsible for the heinous human rights crimes committed during that military regime.
It is estimated that two hundred were killed and kidnapped, most of them in neighbouring Argentina where many Uruguayans took refuge since the Argentine military took power three years later in March 1976. Nevertheless hundreds more were arrested and tortured during the military regime in Uruguay.
"Uruguay should take immediate steps to hold those responsible for enforced disappearances to account, whether or not the crime was on the books in Uruguay in the late 1970s," said José Miguel Vivanco, Americas Director at Human Rights Watch, before Mujica's government's announcement. "Victims and their families have already waited for far too long for justice".
Since a catch-all coalition of political forces (from Christian Democrats to Communists and Trotskyites) under the banner of Broad Front took office in 2005, an estimated twenty former military officers have been tried and convicted precisely appealing to the Executive prerogative of the 1986 amnesty law.
According to the latest opinion polls, 52% of Uruguayans support Parliament's decision not to annul the 1986 'Expired-crimes bill' while 31% believe it should have been thrown out. A significant 17% preferred not to answer.
Furthermore 55% of those interviewed say that it is time to end discussion on the 1986 amnesty law while 41% believe investigations should continue, while 4% did not reply.