Brazil's (5%) Transport minister resigns following allegations of corruption
Wednesday, July 6th 2011 - 22:41 UTC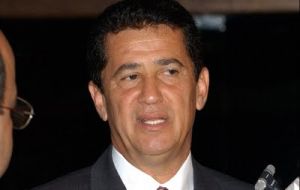 Brazil's transport minister became the latest top official to quit because of corruption allegations, adding to the recent struggles of President Dilma Rousseff's six-month-old government.
Alfredo Nascimento resigned following a report over the weekend by influential news magazine Veja that his top aides were charging companies a 5% fee to win infrastructure and other contracts.
Rousseff's government has been in a state of paralysis since last month, when her chief of staff Antonio Palocci quit following questions over his sudden enrichment.
The scandals have exacerbated tensions within Rousseff's 10-party coalition and distracted Congress from debating major economic reforms, such as changes to the tax code, that seek to ensure continued growth in Brazil's economy.
Nascimento's Party of the Republic is a minor member of the coalition, so his departure will probably not substantially worsen the rift with Rousseff's partners.
Yet opposition lawmakers could still choose to launch an investigation into alleged corruption at the ministry. A drawn-out probe could chip away at Rousseff's popularity at a time when Brazilians are increasingly restless about rising inflation and a constant drumbeat of scandal.
Nascimento's relatively quick resignation could be interpreted as a sign that Rousseff is less tolerant of corruption than her predecessor and political mentor Lula da Silva, who often permitted officials to linger in their jobs for much longer after such allegations.
Local media reported that Rousseff was especially angry about possible corruption within the transport ministry because it handles projects related to her pet infrastructure program, known as the PAC.
The 1 trillion US dollars PAC seeks to expand Brazil's infrastructure ahead of the 2014 World Cup and 2016 Olympics and help resolve bottlenecks on overburdened highways and in seaports.