Royal blessing for Gibraltar priest to head leading Catholic college in Valladolid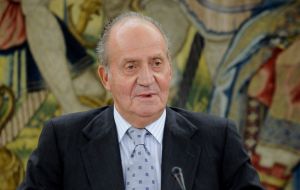 The King of Spain will approve the appointment of Father John Pardo as head of the Catholic college in Valladollid.
The news carried in The Times newspaper and online reports that King Juan Carlos of Spain is to approve "the appointment of a priest from Gibraltar as head of a leading Catholic training college amid a downturn in relations between London and Madrid over the Rock".
The Spanish monarch will formally approve Father JohnPardo as the next rector of the English College in Valladolid, a 16th century priests' training college in northern Spain.
Father Pardo, who spent eight years working in Gibraltar, will take over the post this summer at the college which trains British priests before they return to preach in the UK.
The Times story quotes a spokesman for La Zarzuela, the Spanish royal residence, who said: "The King will give his seal of approval possibly next week to Father Pardo's appointment."
The report suggests the backing of a Spanish monarch for a priest from Gibraltar has been seen as a positive move after relations between Madrid, London and Gibraltar reached a new low recently over the Rock. It carries a quote from Joe Bossano who told the newspaper: "I see it as perfectly natural a British priest should be approved by the King, despite the fact they regard us as squatters in Gibraltar."
Spanish commentators too adds the report, noted Father Pardo's appointment marked a positive change after a series of setbacks. José Ignacio Landaluce, is quoted as saying that "after a series of aggressive confrontations, this is a symbol of good relations between both communities."
Father Pardo, told The Times: "When I was in Gibraltar tempers sometimes flared but this is a time of growth and stability in relations between Spain and Britain."
The Royal College of St Alban, Valladolid, was founded in 1589 for the training of Catholic priests for England and Wales. Father Pardo's appointment was first approved by the Vatican, then finally by King Juan Carlos. The college now offers a one-year pre-seminary course for Catholic men considering the priesthood.