Euro-zone decides to contain inflation and hikes interest rates to 1.5%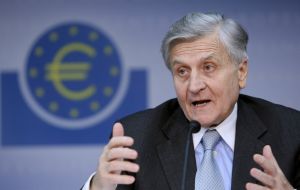 The European Central Bank (ECB) decided on Thursday to raise interest rates to 1.5% from 1.25% in an attempt to cool inflation in the 17-nation Euro zone. ECB president Jean-Claude Trichet said that inflation, now 2.7%, was likely to remain "clearly" above the ECB 2% target over the coming months.
Trichet said inflation would be monitored "very closely", seen as a signal that rates are likely to rise further. The latest increase was the second rate rise since April.
The ECB rise was widely expected after Mr Trichet indicated last month that such a move was likely. He told a news conference after the rates announcement that recent economic data had showed a slowing in Euro zone growth.
However, there were "upside risks" to inflation in the medium term because "the underlying pace of monetary expansion is continuing to gather pace," he said.
Mr Trichet said inflation would remain above target over the next few months largely because of higher energy and commodity prices.
"It is essential that the recent price developments do not give rise to broad-based inflationary pressures over the medium term" said Trichet adding that "our decision will contribute to keeping inflation expectations in the Euro area firmly anchored in line with our aim of maintaining inflation rates below, but close to, 2% over the medium term".
Such anchoring is a prerequisite for monetary policy to contribute to economic growth in the Euro area.
The ECB primary role is to keep inflation low by setting interest rates for the 17 countries that use the Euro. But there are concerns that rising rates will increase borrowing costs, adding to pressure on countries such as Greece and Portugal.
Asked if the rate rise would do more damage the Euro-zone periphery economies, Trichet said that "the entire continent would benefit from maintaining price stability and confidence".
He said that confidence was the "solid soil" on which the Euro zone would build, despite some countries expanding at a faster pace than others.
The continuing strength of Germany's economy was underlined this week with figures showing that manufacturing orders rose 1.8% in June. Many analysts had forecast a fall.