Streep/Thatcher in 'The Iron Lady', promises to be a win-win blend
Thursday, July 7th 2011 - 21:03 UTC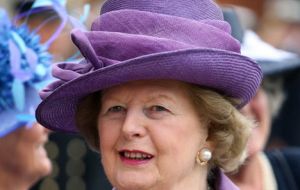 The first trailer for "The Iron Lady" has been released giving a glimpse of Meryl Streep as British Prime Minister Margaret Thatcher and from the looks of it the Oscar winning actress might have what it takes to convince audiences that she can step into the Baroness' shoes.
The film script is believed to follow PM Thatcher in the day leading to the Falkland Islands conflict in 1982.
Ms Streep, 62, puts her foot down in the short teaser trailer where she is being given tips on her public image by two advisers.
Gordon Reece, played by Roger Allum, tells her they have to 'maximise' her appeal to make her "look and sound like the leader you could be".
He suggests she should get rid of her hat and her pearls while commenting that her voice is "too high and has no authority". But Thatcher soon puts him straight and informs him: "I may be persuaded to surrender the hat. The pearls however are absolutely non-negotiable!"
She adds with a grin: "That's the tone that we want to strike".
Streep is teaming up with Mamma Mia! Director Phyllida Lloyd, again on the movie, which started shooting at the beginning of the year. The film follows PM Thatcher in the day leading up to the Falklands conflict, April/June 1982.
Jim Broadbent plays her devoted husband Denis Thatcher while Richard E Grant has been cast as Michael Heseltine and Roger Allam stars as Gordon Reece.
Olivia Coleman plays Thatcher's daughter Carol with Anthony Head as Geoffrey Howe, Michael Pennington as Labour leader Michael Foot and Julian Wadham as Francis Pym.
Alexandra Roach and Harry Lloyd star as Margaret and Denis in their younger days.
Meryl Streep who is considered one of the great actresses of Hollywood also seems to have a special touch since every project she's involved in jumps into another level. Even when she wasn't in a film in 2010, her nominations for Julie and Julia in 2009 and Doubt in 2008 set a pretty recognizable modern precedent.
It seems that will continue this year with The Iron Lady.