Trump opens 70-story luxury hotel in Panama, the tallest building in Latin America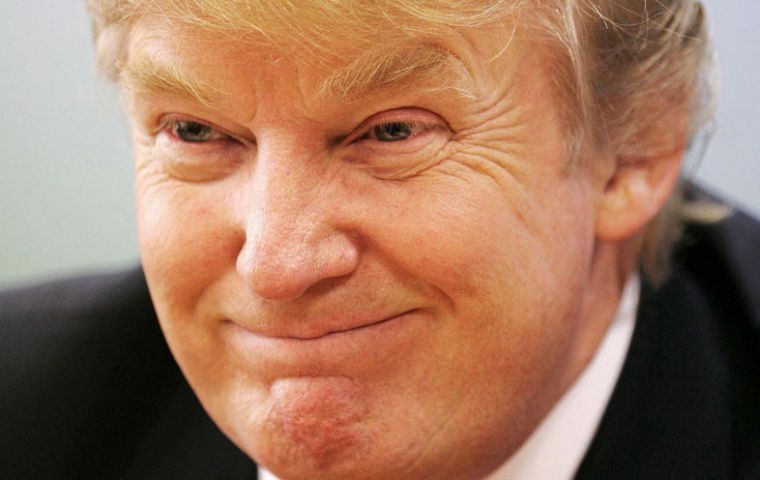 Untied States billionaire Donald Trump marked his entry into Latin American real estate Wednesday with the opening in the capital of Panama of his 70-story luxury resort, the tallest building in Latin America.
The sail-shaped structure, soaring 284 meters into the sky, is a resort and residential complex that joins the real estate boom in Panama City. Panamanian president Ricardo Martinelli and top officials were present at the ceremony.
"I want to thank Donald Trump for coming to Panama to invest in Panama and Panamanians for this opportunity to host one of the most important and beautiful buildings," said President Ricardo Martinelli, adding that "I'm sure it's going to be on many postcards."
The Trump Ocean Club reflects "the modern sensibility of the new generation of luxury travel," the company said in an invitation to the inauguration of the resort, where the cheapest room costs 300 USD per night and homes sell for 250,000 to 1 million USD.
With an investment of 430 million USD, the resort designed by Colombian architecture firm Arias Serna Saravia is home to 47 suites, 37 elevators, a spa, marina, casino and an island with a private beach. It also boasts a 900-square-meter terrace with an oceanfront pool, personalized butler service and a convention centre stretched across 4,200 square meters.
Donald Trump said that the inauguration of the hotel anticipates further investments as the region's economies continue to show strong growth, although he did not anticipate names of countries.
"I see this as a great springboard to the rest of Latin America," Trump said. "There's strong interest in the Trump brand there".
The Trump chain has hotels in US cities like New York, Chicago and Las Vegas and is currently building another in Toronto in Canada.
A thousand people work at the Panama City resort, where celebrities and wealthy patrons have bought up nearly all of the residences, according to press reports.
The city's real estate boom has turned the capital of Panama into a "mini Dubai" of sorts, mirroring the wealthy Gulf city's skyscrapers and monumental buildings.
With the Trump tower, Panama is now home to the three tallest buildings in Latin America. Both "The Point," which stands at 67 floors or 266 meters high, and "Ocean Two," which is just 20 meters shorter, opened this year.