Decanter magazine highlights Chile as "wine producing paradise"
Friday, July 8th 2011 - 20:25 UTC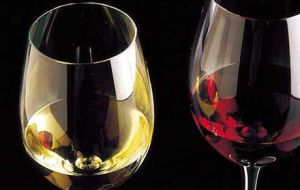 The latest issue of U.K.-based Decanter magazine focused on the growing wine culture in Chile, a country it deemed a "grape growing and wine producing paradise" due its geographical diversity.
According to the magazine's top oenologist, the 15 most prestigious vineyards in Chile include Altair, Errázuriz, Concha y Toro, Cono Sur and San Pedro, as well as lesser-known vineyards like Aristos, Calyptra, Polkura, Falernia and O. Fournier.
Concha y Toro, Chile's leading wine producer, "constantly produces excellent wines," according to British winemaker Peter Richards. He also calls Cono Sur one of the most diverse and competitive wines in the world.
Montes, Casa Marín, De Martino, Tabalí and Leyda round out the list, although notably absent was Santa Rita, one of the three largest wine producers in Chile.
According to the major wine business organization Vinos de Chile, the United Kingdom remains the largest importer of Chilean wines, followed closely by the United States.
Demand for Chilean wine in the U.S. and the U.K. has remained relatively constant over the last few years, especially in contrast with rapidly growing demand of 10 percent or more annually in other European countries, as well as China and Japan.
This year, the price of Chilean wine has already risen substantially due to the weak value of the dollar, cold spring weather and a shortage of temporary labourers.
Some companies, like Concha y Toro, are going so far as to raise prices by at least 10%, putting an emphasis on increased quality over increased quantity.
By Benjamin Schneider – The Santiago Times