EU waiting for farm-impact assessment to advance in trade talks with Mercosur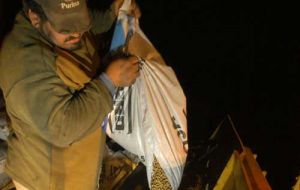 The European Union and Mercosur concluded Friday in Brussels the sixth round of negotiations for a cooperation and trade agreement without any formal exchange of proposals but with the commitment to continue discussions.
"Chief negotiators of both sides reaffirmed their commitment to move negotiations forward to reach a comprehensive, balanced and ambitious association agreement" the delegations said in a joint statement at the end of five days of talks.
Working groups made "considerable progress in the regulatory texts of the bi-regional agreement, notably in the areas of services-investment and dispute settlement". Sustainable development was also discussed.
The difficulties of the European debt crisis have hampered progress in the discussions, along with more long-term issues such as EU farm subsidies and market access for Mercosur agriculture produce.
The three areas addressed during talks were political dialogue, cooperation and free trade. In the first two items EU and Mercosur advanced in different areas with "an enriching exchange of views in different issues which helped to better understand each other's positions".
In the more controversial trade chapter with eleven working groups advances were achieved in issues such as investment, services and solving disputes. EU negotiators were headed by Joao Aguiar Machado from Portugal and Uruguay's Alvaro Ons for Mercosur. Uruguay currently holds the Mercosur rotating chair.
However the crucial exchange of proposals remains delayed since EU country members are waiting for an agriculture impact assessment report under elaboration by the European Commission.
Once distributed the report must be considered by all EU members and the EU Parliament that has also lobbied strongly on behalf of European farmers who fear "cheap" Mercosur farm produce will impact negatively on their living conditions and rural employment. Both are most sensitive issues at times of recession and the Euro confidence crisis.
A group of EU countries led by France, Ireland, Belgium and Poland are reluctant to accept a trade agreement in certain agriculture items such as beef, of which Mercosur is the world's leading exporter, and are demanding that they comply with the strict EU sanitary and environmental regulations.
The next round of negotiations is scheduled to take place in Montevideo, 7 to 11 November followed by another in Brussels during the first quarter of 2012.