Polls show Mrs Kirchner has an 18 point lead over her runner up
Sunday, July 10th 2011 - 06:00 UTC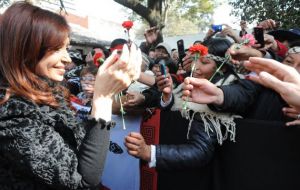 Voter support for Argentine President Cristina Fernandez's re-election rose in the last few weeks but her lead over Congressman Ricardo Alfonsin narrowed slightly as his backing jumped, a poll showed last Wednesday.
Mrs. Kirchner support now stands at 38.3%, up 4.9 percentage points from three weeks ago, according to a survey by local pollsters Management & Fit. The president made a long-awaited announcement that she would seek a second term on June 22.
Alfonsin, a social democratic legislator and son of former President Raul Alfonsin, polled at 23.2% of potential votes, up nearly 8 percentage points from last month and putting him 15 points behind Fernandez. Her lead stood at 18 points in the prior survey.
The centre-left Peronist president has approval ratings of about 50%, buoyed by swift economic growth of around 9% annually, a fragmented opposition and lingering sympathy nine months after her powerful husband died.
Cristina Fernandez chose Economy Minister Amado Boudou as her vice presidential candidate and vowed to continue current policies, which include a strong state hand in the economy, heavy energy and transportation subsidies and trade protectionism.
She is drawing on strong support among young Argentines by giving prominence to a pro-government youth movement founded by her son.
Polling a distant third in the Management & Fit survey is the Socialist governor of Santa Fe province, Hermes Binner, with 6.4% support. He is followed by former President Eduardo Duhalde, a dissident Peronist who has 5.4% backing.
Argentina's political opposition failed in its attempts to unite behind a single candidate to challenge Mrs Kirchner, which political analysts said could result in a first-round victory for her on October 23.
To avoid a run-off election, a candidate must win more than 45% of votes or at least 40% with a 10-point advantage over the next biggest vote-getter.
The Management & Fit poll was taken between June 29 and July 2 among 1,738 people. The margin of error is plus or minus 3.1 percentage points