Brazil's 2016 Olympics deadline running faster that the high-speed train project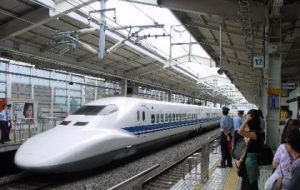 Brazil's ambitious high-speed train project was postponed once again due to a lack of bidders but Brazilian officials anticipated they would hold two separate bids for the project to link Rio de Janeiro and Sao Paulo on time for the 2016 Olympic Games.
"We had six technology companies interested, but they did not manage to connect with the construction sector," National Land Transport Agency, ANTT, chief Bernardo Figueiredo said. "That made the process difficult."
The high speed train project is worth some 18 billion US dollars. The new train is set to travel some 500 kilometres between the two cities in around one hour and a half for a cost of 200 Real (125 USD) in economy class. The system aims to accommodate an anticipated mass influx of visitors for the Olympics and to relieve pressure on Brazil's overcrowded airports.
Bidding on the new line has already been postponed twice, in November 2010 and in April, at the request of the various consortiums and the ANTT.
On Tuesday the ANTT said officials decided to split the bidding process in two, in an effort to get construction under way as soon as possible.
The first bidding phase will be for the project's core and technology. The second phase will be for the infrastructure made necessary by the technology that ends up chosen, officials said. With the bidding split, work may be getting under way by late next year, said Figueireido.
Bidders are expected to include France's Alstom and a Japanese consortium plus a few others from Italy, Germany, Spain, China and South Korea, according to ANTT.
Earlier, Brazil's biggest public works companies, which would handle much of the construction and logistics with any international partners, had told the government they would not be bidding on Monday.