EU digs in to defend Euro: lower costs of aid packages and beefs up stability fund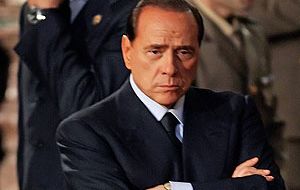 European Union finance ministers pledged to beef up a rescue package for troubled economies such as Greece as they went to battle to contain debt crisis contagion threatening to engulf Silvio Berlusconi's Italy and Socialist Spain.
In the escalation of events between the EU on one side and private banks and risk rating agencies, the speculative attack targeted the already discredited Spanish Socialist government and a seriously debilitated Silvio Bersluconi who seems to have lost his political aura of recent weeks for example to overcome confidence votes.
The Italian PM suffered defeat in recent local elections and his polls ratings have crumbled following revelations of sex-parties, tax fraud and other personal problems, which leave him with a seriously clipped power before parliament, not to say his recent public admission that he never supported the Paris-London Libyan operation where Gaddafi is exposing NATO's incompetence and clumsiness.
No politically weaker target could have been picked.
After more than eight hours of talks late into Monday night in Brussels ministers from the 17-nation Euro-zone agreed to a range of measures to end weeks of widening differences that have fed financial uncertainty.
The ministers "reaffirmed their absolute commitment to safeguard financial stability in the Euro area" in a statement that pledged measures "to improve the Euro area's systemic capacity to resist contagion risk".
Among them was a move to strengthen the European Financial Stability Fund (EFSF) set up in the aftermath of last year's Greece crisis, which has a current lending capacity of 440 billion Euros.
Useful for smaller economies, the fund would be hard put to fly to the rescue of Italy and Spain, the Euro zone's third and fourth largest economies. The combined economies of crisis-hit Greece, Portugal and Ireland represent only half the size of Italy's.
Other measures include lengthening maturities of loans and lowering interest rates, thus giving countries in difficulty more time to pay back under lower interest, "including through a collateral arrangement where appropriate."
Better loan terms will be vital for Greece, facing a second rescue in September tipped to be almost as big as a 110-billion-Euro bailout in May 2010.
Turning to Greece, the ministers said in a statement that experts were working "steps to reduce the cost of debt-servicing" as well as ways "to improve the sustainability of Greek public debt", raising a possible buyback of loans by Athens to reduce its overall mountain of debt.
The pledge came as Greek Prime Minister George Papandreou warned fellow EU leaders to end division over the bloc's sovereign debt crisis with a clear message to sceptical markets.
"The Euro-group must send a resonant message that there is a strong willingness to support Greece's ambitious programme of change," he said. Euro-group chairman Jean-Claude Juncker welcomed an agreement by banks and other private sector to relieve the taxpayer's share of the burden by taking part in a Greek rescue.
The involvement of the private sector in a new bailout is at the root of rifts within Europe, with the likes of Germany, the Netherlands and Finland insisting on burden-sharing, whatever the cost.
The European Central Bank on the other opposes forcing banks into a deal that could be interpreted as a default of Greece and reiterated at the talks "that a credit event or selective default should be avoided."
"We are looking at something which is more systemic" than Greece, said Spanish minister Elena Salgado. "It concerns the stability of the Euro zone in general."