Gibraltar's current debt level makes Europeans "green with envy"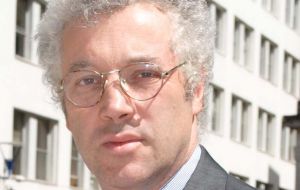 Gibraltar's economy is performing well and its current debt levels are not a cause for concern said Professor Albrecht Ritschl from the London School of Economics interviewed by Radio Gibraltar to provide an independent assessment of the latest economic data presented in the local Parliament last week.
"In principle I would say that, given the numbers that you have, whether it's net debt of 25% of GDP or gross debt of 50% of GDP, both of these figures are quite good and should not be a cause for concern," he said.
"From a European perspective we should be green with envy. What Gibraltar is showing us is that small is beautiful. Small economies are often doing noticeably better than big economies and one of the reasons seems to be that it's easier to govern these places well."
Asked whether Gibraltar should be reducing its debt, Prof Ritschl said it was a question of taxing people now or in the future.
"It's probably not a bad idea to reduce debt, although you seem to be so far from the danger zone that quite clearly it's not a primary concern," he said.
"Basically the question of whether to keep debt at its current levels or whether to reduce it is a choice between taxes now or taxes in the future. It's not always exactly the same thing because if it's tax in the future, then it's probably other people who pay them, so it's not entirely neutral."
A second LSE academic interviewed by Radio Gibraltar also issued a cautionary note about debt reduction, particularly in an economy that relied on a small number of key sectors.
"If your economy depends largely on one or two sectors that might be vulnerable, I would suggest that you need to be a bit more prudent during the good times and be prepared that something might happen in the bad times that you need to compensate for," said Dr Joachim Wehner.
"It's a question of fiscal risk and looking forward and making sure that the debt burden that you have in the good times is held at a sufficiently low level to respond even when a sector that you rely on very much gets hit by a downturn".