Media tycoon Murdoch refuses a summons by British Parliament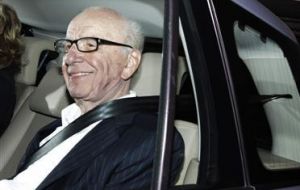 Media tycoon Rupert Murdoch refused a summons by Britain's parliament to answer questions over alleged crimes at one of his newspapers, leaving a senior executive from his media empire to face lawmakers keen to break the media mogul's grip on politics.
British police arrested a ninth suspect, named by media as a senior former editor of Murdoch's News of the World, adding weight to a government call for the media regulator to decide whether his business is fit to run British television stations.
Murdoch has already been forced to close the News of the World and back down on his biggest acquisition plan yet - the takeover of British pay TV operator BSkyB - due to an outcry over allegations reporters accessed private phone messages.
He and his son James, the heir apparent to his NewsCorp empire have so far stood by executive Rebekah Brooks, who runs its British newspaper arm and was a friend of Prime Minister David Cameron until he echoed calls for her to go.
Brooks, who edited the News of the World at the time of one of the most serious alleged incidents, agreed to appear before the committee next week, but said the police inquiry might restrict what she could say.
Murdoch, a US citizen, said he would only give evidence to a public inquiry announced by Cameron after questions were raised over the role of some police officers in the scandal and over the relations between British politicians and media owners.
Murdoch's son James, chairman of News Corp's UK newspaper arm who the company said had dual US/UK citizenship, said he could not appear before parliament until next month.
The reception is certain to be hostile. During a heated debate on the hacking scandal, Dennis Skinner, a veteran left-wing Labour member of parliament described Murdoch as "this cancer on the body politic". Murdoch and other senior executives have denied any knowledge of the alleged practices.