Murdoch and son James think twice and agree to testify before British Parliament
Thursday, July 14th 2011 - 23:50 UTC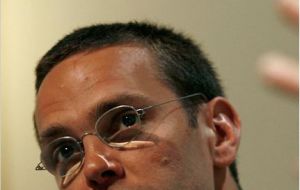 Media tycoon Rupert Murdoch and his son James bowed late Thursday to threats to find them in contempt of British Parliament and agreed to testify about the phone-hacking scandal to lawmakers on July 19.
"We're in the process of writing to the select committee with the intent that James Murdoch and Rupert Murdoch will attend Tuesday's meeting," said Miranda Higham, a News Corp spokeswoman.
Both executives had earlier in the day written to Culture, Media and Sport Committee Chairman John Whittingdale to say they wouldn't come to next week's hearing. Whittingdale responded by asking Parliament's sergeant at arms, Jill Pay, to issue both executives with summons to appear.
"We meet on Tuesday at 2:30," Whittingdale told reporters just before noon in London after his committee had met in private. "Either they attend or we report their failure to attend to the House. Then we are in uncharted territory."
As constitutional experts doubted Parliament still had the power to jail the Murdochs for declining to attend, News Corp. confirmed the reversal. They will appear alongside Rebekah Brooks, the chief executive officer of News International, the publisher of News Corp. newspapers in the UK, who had on Thursday said she would attend.
Since the July 4 report that the News of the World tabloid had hacked into the voicemails of a murdered schoolgirl, public and political anger has forced News Corp. to close down the paper. The company's decision yesterday to drop its bid to gain full control of British Sky Broadcasting Group Plc has done nothing to abate lawmaker fury.
James Murdoch had offered instead to appear before the cross-party panel on either Aug. 10 or Aug. 11. Rupert Murdoch had said he was prepared to give evidence instead to the judge- led inquiry being set up by Prime Minister David Cameron's government.
Whittingdale said his committee wanted to ask James Murdoch about his July 7 statement that News International executives hadn't told Parliament the truth during previous evidence sessions on phone-hacking.
"James Murdoch has got a lot to amplify," said committee member Labour MP Paul Farrelly.
According to the House of Commons Information Office, if the Murdochs hadn't attended, the culture committee would have made a report to the House of Commons, Parliament's lower chamber. It could have ordered the sergeant at arms to serve a warrant ordering their attendance. Until the end of the 17th century, he would take the golden mace of Parliament with him, as a symbol of his authority. These days, the official, whose job is to maintain law and order in the Commons, can call in the police to assist in serving the warrant.