A humble Murdoch blames in Parliament the "people I trusted" for the phone-hacking scandal
Wednesday, July 20th 2011 - 07:22 UTC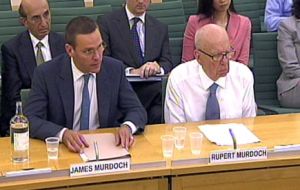 Media tycoon Rupert Murdoch and his son James testified Tuesday to a British parliamentary committee at which he defended his son and his company over a scandal that has rocked the British establishment.
After two and half hours of evidence from the 80-year-old magnate and his 38-year-old son James, a man appeared to rise from the public area of the committee room and tried to hit the elder Murdoch with a "custard pie".
At the start of proceedings, the elder Murdoch had rejected personal responsibility for the phone-hacking and corruption scandal but, with his son, said the company was deeply sorry and intended to resolve the issue as quickly as possible.
Sitting next to James, who opened the much-awaited proceedings in a packed committee room at Westminster by apologizing to victims of voicemail hacking, the Australian-born chief executive of News Corp interjected.
"I would just like to say one sentence," he said. "This is the most humble day of my life." He later said he was "shocked, appalled and ashamed" when he read two weeks ago of the case that has transformed the smouldering scandal into a "firestorm", in the words of Prime Minister David Cameron. It has shaken Britons' trust in the press, police and politicians, including Cameron himself.
Murdoch has shut down his top-selling Sunday newspaper, the 168-year-old tabloid News of the World, and dropped a strategically important buyout bid for broadcaster BSkyB. But asked flat out if he considered himself personally responsible "for this fiasco", Murdoch replied simply: "No."
Asked who was, he said: "The people that I trusted to run it, and then maybe the people they trusted." His son said they did not believe the two most senior executives to have resigned, Rebekah Brooks and Les Hinton, knew of wrongdoing.
Several people were ejected from the packed public area of the room as proceedings were beginning after holding up posters reading "Murdoch wanted for news crimes". Outside, demonstrators also kept vigil throughout the hearing. During questioning, Murdoch insisted that he had been misled when previously denying that phone hacking at the News of the World went beyond the case of a reporter who was jailed for the offence in 2007.
Occasionally slapping the table in apparent frustration, he said the paper was only a small part of his business, suggesting he could not supervise it personally. Asked about one of 10 journalists arrested this year by police probing hacking, he said gruffly: "Never heard of him." He added: "This is not an excuse. Maybe it's an explanation of my laxity. The News of the World is less than one percent of our company. I employ 53,000 people around the world".