Auschwitz "angel of death" writings and records on auction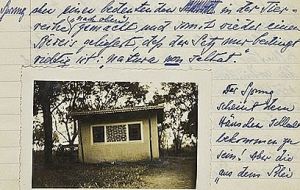 More than 4,000 pages of journal entries and other material written by Dr. Josef Mengele, the "angel of death" are to go under the hammer Thursday at a United States auction house.
Some 33 years after the Nazi war criminal known as "the angel of death of Auschwitz" drowned in Brazil, (where he fled after World War II), 31 documents signed by Mengele and some 4,000 pages of diary entries as well as paintings and drawings he made, will be sold to the highest bidder.
The material, dated from 1960 to 1975 when Mengele was living in Argentina, Paraguay and Brazil, includes autobiographical details, stories, poetry, philosophical musings, transcriptions of conversations he had, and political and historical remarks. The material is expected to be sold for between $300,000 and $400,000.
The buyer will also be entitled to the copyright, which can them be sold to a publishing house, a documentary film production company, or for any other project.
Mengele, a physician and German SS officer, became notorious for supervising the selection of arriving prisoners at the Auschwitz concentration camp, sending some to hard labour and others straight to their deaths, and for conducting gruesome experiments on inmates.
Bill Panagopulos, the owner of the auction house, Alexander Autographs said that 95% of the material on offer had never been published. The material, he said, would be of great value to researchers, historians and educators.
The auction house, based in Stamford, Connecticut, declined to reveal the identity of the seller, as is the usual custom. However, Alexander Autographs said it was not one of Mengele's descendents, who are living in Germany under the same name. Apparently, the documents came from South America, the auction house said.
About 18 months ago, Alexander Autographs sold one of Mengele's diaries. The anonymous buyer was a Jewish philanthropist from the east coast of the United States who is the grandson of Holocaust survivors and lost some 100 family members in the Holocaust. The buyer said at the time he would keep the diary in "Jewish hands" for future generations.
Panagopulos said he was concerned that if the material was not purchased by a major institution, it would be scattered among private buyers and disappear, or even get into the hands of anti-Semitic individuals.
Last month, the Simon Wiesenthal Center in the United States bought a historic letter written in Adolf Hitler's own hand for $150,000. Panagopulos said he hoped a Jewish buyer would be found for the material he would be putting on auction Thursday.