Uruguay-Argentina agree 60-day hake ban on CFZ fearing 'bio-hazard' status
Friday, July 22nd 2011 - 06:12 UTC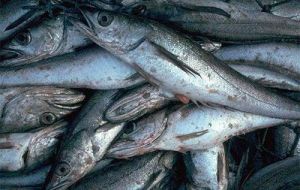 The Joint Technical Commission for Maritime Front (CTMFM) ordered a 60-day winter ban on hake (Merluccius hubbsi) in the Argentina-Uruguay Common Fishing Zone (CFZ), effective August 1 until September 30.
CTMFM also recommended that it is 'expedient' to limit hake extraction effort in the CFZ, since the resource shows signs of a "biohazard" status.
In accordance with Resolution 6/11, published in the Official Gazette of Argentina, the protection area will be within the following points:
• 35º 45' South - 53º 56' West;
• 36º 01' South - 53º 37' West;
• 37° 26' South - 54º 34' West;
• 36º 59' South - 55º 17' West.
This winter closure complements other bans imposed in autumn, spring and summer.
In the CFZ trawling targeting sea bottom species is also banned. Operations are only allowed during daylight hours for vessels aiming pelagic resources. The decision was made taking into consideration the need to protect the adult specimens in reproductive stages and hake juvenile species in CFZ.
Furthermore, the Commission declared hake is in "biohazard" status and set a total allowable catch of 50,000 tons in the area shared by Argentina and Uruguay due to the fragility of the species.
Both governments agree to implement "the corresponding measures in the years 2011 and 2012 so that fishing effort applied to the species does not expand" reads the text of the Resolution 7/11. Based on conservation efforts, the total allowable catch for hake will remain in effect in 2012.
Furthermore the use of satellite monitoring device on fishing vessels from both countries operating on hake in the area becomes mandatory.
The resolution also establishes that in the following 150 days from the moment the new measures come into force, a management plan for the recovery of the resource in the CFZ must be drafted.
According to the latest data provided by Argentina's Under-Secretary of Fisheries and Aquaculture in the period extending from January first to 15 July this year, 141.051 tons of hake were unloaded in Argentine ports. This is more than the 124.439 tons in the same period a year ago. (FIS/MP).-