Santa Fe governor election, a test for Argentine presidential ballot next October
Saturday, July 23rd 2011 - 06:31 UTC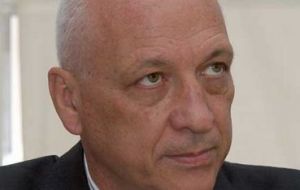 Santa Fe is Argentina's fourth most important electoral circuit and on Sunday will be voting for governor and a package of provincial officials from lawmakers for the local congress to councilors.
But Sunday's vote will be above all a test for President Cristina Fernandez and her opponents ahead of next October presidential election. Two of the governor hopefuls are supported by the main October presidential candidates and the third by who can be anticipated will be bidding for the job in 2015.
President Cristina Fernandez is supporting her loyal lawmaker and head of her congress block in the Lower House, Agustin Rossi; the successful governor of Santa Fe, Hermes Binner the Socialist who was able to break the hegemonic Peronist party in the province is backing Antonio Bonfatti who opinion polls show as favorite, and finally Miguel Del Sel an unexpected last minute candidate who is running as representative of PRO the party of Buenos Aires City mayor Mauricio Macri.
The conservative Macri at the end of the month will be facing a run off and is expected to win comfortably a second mandate as mayor of Argentina's capital thus confirming his potential to bid for the Casa Rosada in 2015.
In last May obligatory primaries, most political parties and personalities of Santa Fe where surprised with the results: Miguel Del Sel was the third most popular candidate in the province, behind the "Frente Para la Victoria" candidate Agustín Rossi and the winner and current favorite, current Ministro de Gobierno y Reforma of Santa Fe, Antonio Bonfatti.
The winner of most votes in the primaries, Antonio Bonfatti, is a doctor who entered into politics when he was elected mayor of the Santa Fe city Las Parejas in 1983. A little over a decade later he became the Secretary of Public Health for the City of Rosario, then Government Secretary for the city of Rosario. In the 2003 elections he was elected as a deputy in the Santa Fe legislature, and is currently minister of government and reform. He is running for governor of Santa Fe for the first time in his life, with the motto of continuing the Socialist policies of incumbent Hermes Binner – who is forbidden from running for re-election by the constitution.
President Fernández' candidate, Agustín "El Chivo" Rossi, is civil engineer who joined the peronist party in the 1980's, and has been actively working in politics for more than thirty years. After being elected as president of the municipal council of Rosario on two occasions, "El Chivo", a nickname ('goat' in English) he likes to use in his campaign's billboards, won a seat representing the province of Santa Fe in the national congress in 2005. By that time, he was a member of the former president Néstor Kirchner's "Frente para la Victoria party", and has defended the "kirchnerista" movement and ideas very vigorously and successfully.
And last but not least, Miguel Del Sel, is a comedy actor that worked in television and stage for most of his life. With no practical political experience at all, he says that his strength is based in the team of people that surrounds him and work with him. His mentor, Mauricio Macri has stated that the people of Santa Fe believe in Miguel Del Sel, because he's honest and knows the province. PRO officials hope Del Sel will benefit from the momentum gained by Macri's convincing first-round win in the capital.
The result of Sunday's election will have an impact at national level. Both Hermes Binner and President Cristina Fernández will see their presidential campaign's energized by the triumph of their candidates. Meanwhile, Mauricio Macri, who is now looking ahead of the July 31st run-off with Daniel Filmus in the city Buenos Aires, will surely celebrate a strong performance by his candidate, who has already turned out to be a great surprise.
Santa Fe is one of Argentina's richest farming provinces but also has an important manufacturing complex in support of advanced agriculture. The capital Rosario is Argentina's second city, an important port and a grains and oilseeds hub at international level. Population is 3.2 million and the electoral roll includes 2.43 million.