Santa Fe voters cast "a punishing vote" on those who seek to impose an only way of thinking
Monday, July 25th 2011 - 20:48 UTC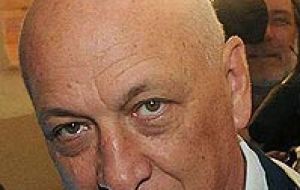 "We received a vote of confidence from the Santa Fe people", said early Monday the Argentine province next governor Socilaist Antonio Bonfatti, following his tight Sunday victory which also "cast a punishing vote" for the government of President Cristina Fernandez de Kirchner, ahead of next October election.
Sunday's election "cast a punishing vote against expressions which seek to impose an only way of thinking" said Bonfatti in clear reference to the defeat of Kirchnerite candidate Agustín Rossi, who stood in third place with 22.24% of the votes against PRO party candidate Miguel Del Sel who surprisingly stood in second place with 35.17% of the votes.
Actor and comedian Del Sel with no political background was invited and supported to run by Buenos Aires City conservative governor Mauricio Macri who is considered an Argentine presidential hopeful for 2015
"We had a vote of confidence from Santa Fe people," Bonfatti told reporters, stressing "the need to consolidate the road to consensus" in the four years to come. "We will keep on fighting against policies which are detrimental to the people's interests," he added.
Meanwhile Santa Fe Governor and presidential candidate, Hermes Binner, admitted that he thought his protégé, Antonio Bonfatti, "would win for a larger margin".
Binner also took time to slap the federal government which he believes that "divides everything between political friends and political enemies".
Likewise, the current governor revealed that "We thought of a larger margin between our candidate and the second one, but obviously we did not think about the new single-slate system, which is fantastic".
From Buenos Aires Economy Minister, Amado Boudou, assured on Monday that incumbent Santa Fe governor, Hermes Binner, "was the one that lost the most in Sunday's gubernatorial elections", and minimized the bad results obtained by Victory Front's candidate Agustín Rossi.
"Binner has lost an important number of votes compared to the 2007 elections. He is definitely the one that lost the most as results will affect his presidential hopes," Boudou told reporters.
Knowing that Rossi's noisy defeat (who trailed winner Bionfatti by 16 points) could affect President Cristina Fernández de Kirchner's image, the minister urged not to take the gubernatorial elections to a national level.
Likewise, Boudou tuned up with comments made by Chief of Staff Aníbal Fernández, and admitted that "the Kirchnerism's proposal for Santa Fe did not make a great impact among its people", and revealed the President's discontent, "The national government would've liked Rossi to make a better election."
According to an official release, Argentine Interior minister Florencio Randazzo called Socialist Bonfatti to congratulate him on behalf of President Cristina Fernández de Kirchner.